Kumdykol lake in Bayanaul.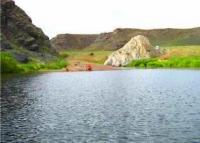 Cultural walking tours from Astana to Almaty.
"The streams in your valleys are clean.
Like the ringing of ornaments of girlish braids.
Oh, how proud I am that your native son
From your birth I live in beauty!
You are the birthplace of my thoughts and songs
My guide has become a star"
Dikhan Abilev, (Translation by D. Priymak).
Excursions to the Bayanaul park.
Lake Kumdykol is located 5 kilometers northwest of the village of Birzhankol (located at the base of the northwest part of the Bayanaul Mountains). The lake is about 500 meters long and 100 to 400 meters wide. The lake is confined to inter-fall lowering.
The catchment is characterized by hilly terrain. The height of the hills to the northwest reaches 70 meters. However, as you approach the lake, the height of the hills decreases markedly. The steepness of the hillsides to the south and southeast of the lake reaches 30 - 35 degrees.
o the north and northwest of the lake, the hillsides are more gentle (15 - 20 degrees). On the shores of the lake sandy clay soils with the inclusion of gravel and gravel are common. The lake basin has a pear-shaped shape.
The depth of the lake is up to 1.5 m. To the north of the Bayanaul mountains within the territory of the national park there are a number of lakes. However, they are small and completely dry in the summer. Freeze-up on the lakes is established in late October, less often in the second half of November.
The lakes open in late March, early April and are completely cleared of ice in late April - early May. By the end of winter, the thickness of the ice on the beach reaches 0.9 - 1.1 meters, in the thickets 0.6 - 0.7 meters, the height of the snow cover on the ice is on average 5 and 25 cm, due to the small depth, vertical stratification water temperature is negligible.
The water temperature is closer to 0 at the beginning of ice formation. After the formation of the ice cover, the water begins to heat from the bottom, which has retained some more heat stored in the summer. After snow melts, the upper layers of water are heated under ice due to the partial penetration of solar radiation through the ice.
As a result of winter and spring last heating, the average temperature during their cleansing from ice in spring reaches 1.5 - 3.5 C. After clearing from ice, the water temperature of the lakes is 11 - 15 C. In July-August, it reaches 15 - 23 C.
Authority:
Advertising booklet of Bayanaul Park, 2003.
Photos
Alexander Petrov.