Lake Karaaryk.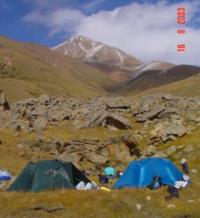 Lakes of Dzungarian Alatau.
"Nature is impassive to man; she is neither an enemy nor a friend to him; it is either a convenient or an inconvenient field for his activity.
Nikolay Chernyshevsky.
Walk to lakes in Dzungarian Alatau.
Moraine, flowing lake Karaaryk is located at an altitude of 2854 meters above sea level in the upper reaches of the river of the same name, in a narrow gorge between the northwestern slope of the Kongorobo mountains and the southeastern slopes of the Dzhungarsky Alatau ridge in the Eskeldin district of the Almaty region.
The length of the lake from northwest to southeast is 290 meters. The greatest width in the southern part of the lake is 195 meters. The area of ​​the lake is 36144 square meters, the perimeter of the lake is 813 meters.
The Karaaryk River flows into the northeastern part of the lake with a delta width of up to 120 meters. Two moraines slid down from the northeastern slope of the Kongoboro Mountains and blocked the channel of the Karaaryk River.
West moraine 530 meters wide and Eastern moraine 250 meters wide created a natural dam and lake. 4.4 kilometers after the sources, the Karaaryk River flows into the lake of the same name. The river originates from the Karaaryk glacier, 1.8 kilometers long.
The glacier is located mostly on the eastern slope of the Kongorobo Mountains and only 500 meters of the glacier in the river valley has a northwesterly direction. The tongue of the glacier is located at an altitude of 3256 meters above sea level.
The upper part of the glacier lies in the crest of the Dzungarian Alatau ridge at an altitude of 3957 meters above sea level. The area of ​​the glacier is 1.24 square kilometers, the perimeter is 6.85 kilometers.
Geographical coordinates of Lake Karaaryk: N44°57'54.41" E79°55'11.12"
Authority and photos by
Alexander Petrov.