Lake Katarkol in Borovoye.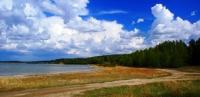 Trip to lake Katarkol in Borovoye park.
                                               "Sweetness shudders through the land
    as if, freed from the heat,
                                                    nature'd scooped spring waters in her hand
                                  and splashed her burning feet"
 Fyodor Ivanovich Tyutchev. "Summer evening".
Traveling along lakes of Borovoye.
Borovoye with its beauty and uniqueness attracts a large number of travellers and therefore the need to protect the surrounding nature increases. The system "nature-man" requires a little: attention, careful attitude, observance of  rules of movement through forests, mountains and lakes.
Lake Katarkol is located near Katarkol village, 22 km east of  Schuchinsk town. The average depth of the lake is 4.8 m. The surface of the lake is clear, thickets of reeds  are found near the north-western shore. The lake is drainless, it is in the stage of desiccation.
Water in the lake is fresh, it is used for water supply to the village and  cattle farms.
A source:
Guide to Kazakhstan. Edition of the Ministry of Tourism and Sports.