Lake Lesnoye in Kulikalon lakes.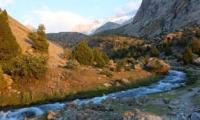 Rest on Kulikolon lakes.
"The skis are standing by the stove, the sunset is dying out behind the mountain,
The month ends in March, we will soon go home.
Hello gloomy days, mountain sun, goodbye,
We will keep this land in our hearts forever"
Yuri Vizbor. "Dombai Waltz". 1961.
Trip from Penjikent to Kulikolon lakes.
Fresh, flowing lake Lesnoe is located at an altitude of 2854 meters above sea level in the north-west of the intermountain Kulikalon depression, in the east of the Govkhon mountains, in the northeast of the Saryob mountains, in the southern part of the Chimtarga valley, in the Artuch river valley, at 4.3 kilometers to the southeast of the Artuch alpine camp in the Fan Mountains, in the northern part of the Gissar ridge in the Penjikent region of the Sughd region.
The length of Lake Lesnoye from the southwest to the northeast is 177 meters, the maximum width is 106 meters. The perimeter of the lake is 739 meters, the area is 16861 square meters. The forest lake has intricate outlines of the shores, with stone islets, bays and capes, where large black currants grow.
Geographic coordinates of Forest Lake: N39 ° 15'39.53 "E68 ° 10'59.80"
Authority:
Alexander Petrov.
"Fan Mountains and Yagnob". N.V. Paganuzzi. 1968. Moscow. Physical Culture and Sports Publishing House.
Photos by
Alexander Petrov.