Lake Sary-Kol in Jetim Range.
Inbound tourism in Kyrgyzstan.
"To love is not to look at each other, but to look together in the same direction. Comrades are only those who, holding on to one rope, climb the mountain peak with common efforts and in this they find their closeness."
 Antoine de Saint-Exupery.
Mountain hiking in Kyrgyzstan.
The flowing, fresh lake Sary-Kol is located at an altitude of 3477.1 meters above sea level, located 19 kilometers southwest of the Sook pass, in the eastern part of the Jetim ridge on its southern slope, 12 kilometers southwest of Lake Ekurgen -Kel in the Jety-Oguz district of the Issyk-Kul region.
The main filling of the lake comes from small, shallow streams that flow down from the eastern slopes of the Jetim ridge. One of the tributaries of the Aigyrbulak River, 11.5 kilometers long, flows out of the southeastern part of the lake.
The main part of the branched sources of Aigyrbulak are located on the southern slope of the Jetim ridge. The length of Lake Sary-Kol from southwest to northeast is 2.5 kilometers, the largest width in the southern part of the lake is 907 meters.
The area of ​​the lake is 1.59 square kilometers, the perimeter is 5.86 kilometers. In the northwestern part, next to the lake, there is a motor road connecting the syrts of the Inner Tien Shan with the Issyk-Kul basin.
After 27 kilometers (to the west), the road leads to the small livestock settlement of Karakol, which is located on the right bank of the Naryn River in the Taragay valley. The distance from the road that connects the village of Barskoon with the Uchkoshkon deposit to Lake Sary-Kol is 17 kilometers.
Geographical coordinates of Lake Sary-Kol: N41°37'45.50" E77°38'48.28"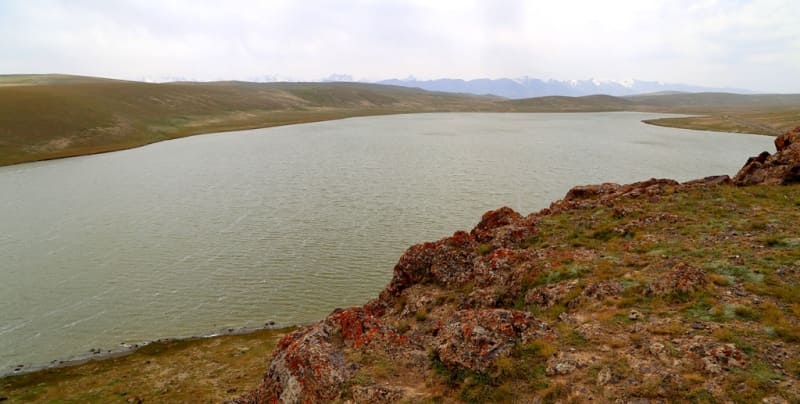 Authority and photos by
Alexander Petrov.