Lake Ziorat in Fany Mountains.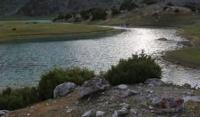 Tourist routes from Artuch alpine camp.
"The stars shine, but they don't warm
Tourists bleat by the fire.
Thick spruce trees rustle to us:
"What are you tired of!"
Yuri Vizbor. March 28, 1952.
Sights ofKuhistan mountains.
The flowing, fresh lake Ziorat is located at an altitude of 2832 meters above sea level is located in the upper part of the Ziorat river valley, on the northern slope of the Gissar ridge, in the western part of the Goukhona mountains, 2.9 kilometers south of the Artuch alpine camp in the Penjikent region of the Sughd region.
The length of Lake Ziorat from the south to the northwest is 248 meters, the greatest width in the southern part is 60 meters. The perimeter of the lake is 797 meters. From the southern side, the Ziorat River flows into the lake, filtering in the moraine, which flows out of the lake and is lost in the moraine.
In the northern part of the lake, single trees grow juniper - a species of juniper. There are many large stones around the lake, sometimes black rocks rise above the green trees. The grass is sparse and very tough. The air is dry, saturated with fine dust due to frequent rock falls.
It is difficult to walk on steep slopes, you have to rest often.
Geographic coordinates of Lake Ziorat: N39 ° 14'50.07 "E68 ° 08'16.15"
Authority:
Alexander Petrov. "In the juniper forest", "Reader on the physical geography of the USSR", A. Shakhov, 1981.
Photo by
Alexander Petrov.