Lakes in mountains of Aiyrtau.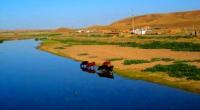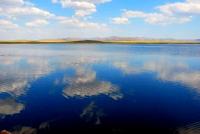 Lakes of Kokshetau.
"An expedition is a school in which the process of knowing nature, folk experience, and the wisdom of people is endless. Travels expand the colorful fan of human knowledge"
Murzaev E.M.
Rest on lakes of Kokshetau.
The lakes of the Aiyrtau district of the North Kazakhstan region are mostly fresh, less common shallow reservoirs with salt waters. There are about 24 lakes in the area. The largest lakes are Zhaksy-Zhangyztau, Imantau, Shalkar, Lobanovo, smaller Akkol (White), Baysary, Koskol, Aiyrtau.
The long-term regime of the lakes is extremely variable and is characterized by an alternation of short rises and long gradual decline in levels. A characteristic feature of the water balance of the lakes in this territory is their lack of runoff.
The basins of most lakes are of tectonic origin. The mirror area of ​​the lakes sharply decreases with decreasing levels. The maximum depth is from 8 m to 30 m. The volume of water mass varies within relatively small limits - the lakes never dry up and can serve as reliable sources of water supply.
On average, runoff from the catchment area of ​​the lake is about 60% of the entire incoming part of the water balance. Precipitation on the surface of the lake during the period from the beginning of snowmelt to the beginning of ice formation amounts to 25 - 35% of the total water balance.
A characteristic feature of the hydrology of all lakes is a significant fluctuation in their level during the year, as well as significant drying out of lakes in recent years, which is explained by a slight decrease in the average annual rainfall in recent years.
In connection with the development of virgin lands, large tracts of catchment areas were plowed, which contributed to an increase in local sediment infiltration and, accordingly, a decrease in the surface catchment area.
Authority:
"The official website of tourism of the Ayyrtau district of the North Kazakhstan region" http://op-airtau.sko.kz/