Matatash a cave.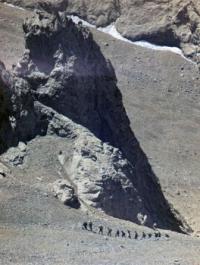 Speleological tours of Tajikistan.
"It is good to have an end to journey toward; but it is the journey that matters, in the end»
Ursula K. Le Guin. «The Left Hand of Darknes».
Business and leisure trips in Tajikistan.
Legendary, surprising cave on the beauty about which in an antiquity a plenty of myths and the legends has been combined, being in the east Mountain Badakhshan in Tajikistan.
The hollow concerns to the areas of display most known in Tajikistan carbon a karst on East Pamir Rangkul.
Known owing to ancient development of salt and gold, and also legendary glory of two small caves: Matatash and Sakaktash.  In the end of the last century in the newspaper «Turkestani sheets» there was clause with the fascinating story about «Rangkul to a cave».
On a legend, in clause, three hundred years ago near to lake Rangkul passed a caravan with dear goods and ornaments. There was a late fall, and the snow which has dropped out for a night and a strong frost have stopped movement of a caravan.
Being afraid to be robbers and seeing impossibility of the further way with a heavy cargo, travellers have decided to hide a part of treasures in a reliable place and to leave from a bad weather easily.
After long searches they have stopped the attention to a cave located in a steep rock at absolutely inaccessible height. For achievement of a cave very unusual way has been thought up: having killed some horses, people began to put pieces of meat to a rock.
Pieces of meat have strong frozen to stones, and the original ladder on which travellers have lifted the riches in a cave thus has turned out. With approach of spring pieces of meat have thawn, have fallen downwards and the cave again has appeared inaccessible.
The further destiny clade is unknown. In people till now exists legend, that клад it was saved on a place and is under protection of the shaitan. The daredevils, tried to rise in a cave, failure comprehended: fatal always there was last step when from depth of a cave «the black animal» or unexpectedly showed to something in this sort.
Tell still, that in the ninetieth years of the last century to bottom of a rock a wind has dumped пa dressing gown and silver bucket. On one of numerous versions, besides it is supposed what to get in a cave it is possible roundabout by, through the lateral course located nearby. So the legend and a national rumour says.
Travel to cave Matatash:                                                                              
1. From Dushanbe or Khorog motor transport through passes Koitezek height of 4272 meters above sea level), Tagarkaty height of 4168 meters above sea level), Naizatash (4137 meters above sea level), Dzhaman-Tal up to Murghab, from it on road about 55 kilometers on northeast through settlement Chechekty up to lake Rangkul, the cave will be at the left (to the north) from road before lake Rangkul.
2. From the cities of Osh (Kirghizia) motor transport through passes Taldyk (3615 meters above sea level), Kyzyl-Art (4260 meters above sea level), Uibulok, Akbaital (4655 meters above sea level) up to Chechekty, further on the east about 40 km up to a cave.
 Authorship:
www.burana.ru
Photos:
 http: // planetguide.ru