Matpanabay Madrasah in Khiva.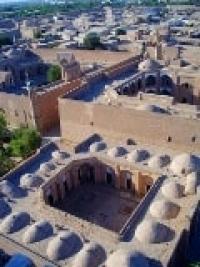 History of architecture of Khiva.
"I repent full of old age.
    No forgiveness, no excuse.
    I, a madman, did not obey God's orders
    He did everything to break the ban! "
Omar Khayyam.
Mystery tour in Khiva.
The Matpanabay madrasah is located in the central part of the Ichan Kala architectural complex, along Palvana Kori street, north of the Juma mosque in the town of Khiva, Khorezm region. Madrasah Matpanabay, built in 1905 by one of the wealthy merchants of the Khanate - Matpanabay Khan.
The construction of the madrasah was carried out by the chief masters of Khiva, Khudaybergen Haji and Kalandar Kochum. The portal of the madrasah is facing east and on the south side there is a corridor for the entrance to the madrasah from the south side.
The layout of the madrasah is square, the main facade is highlighted by a small portal. The courtyard is rectangular, the khuzhrs are located with their ends to the courtyard facade. Decorated with a carved wooden door with inscriptions and ganch carved panjars.
When viewed from above, the madrasah looks symmetrical about the central east-west axis, with the exception of one detail: a room is missing in the north-west corner. The main facade is decorated with a small portal and an indistinct relief of dividing the arcade into niches.
In the madrasah there are more than ten hujras for students, darskhana, and in the southern part there is a domed mosque. In 2001, in the premises of the madrasah, an exposition of the museum of history "Avesta" was opened, dedicated to the 2700th anniversary of the creation of this famous book of the ancient Khorezmians.
The descendants of Matpanabay live in the city of Dashkhovoz (Tashauz) (Turkmenistan).
Geographic coordinates of Matpanbay madrasah in Khiva: N41 ° 22'40.56 "E60 ° 21'36.48"
Authority:
http://visitkhorezm.uz