Mausoleum of Sadriddin Aini in Dushanbe.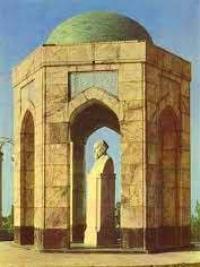 Historical monuments in Dushanbe.
"A diligent person, that a spark, although small, burns everything wherever it falls. And the slow and cowardly - like a lump of dried clay, although large, but falls - only the dust from it remains.
Sadriddin Aini.
Monuments to prominent people in Dushanbe.
Mausoleum of Sadriddin Aini is located in the park of the same name, located to the west of Rudaki Avenue in the north-eastern part of the reservoir on Vodonasosnaya in the northern part of Dushanbe. In the city of Dushanbe, in the park of culture and recreation named after Sadriddin Aini, on October 5, 1960, the grand opening of the mausoleum-monument to the great Tajik writer and scientist, the first president of the Academy of Sciences of Tajikistan S. Ainn (died in 1954).
In the center of the park on the main alley, a memorial was built in honor of the famous people of the republic. The alley ends with the mausoleum of Sadriddin Aini, erected over his grave in 1958 - 1960. The mausoleum was created at the burial place of the writer according to the project of architect Y. Snegovsky and sculptor M. Manuilov.
This is a majestic domed building with oriental outlines. Outside, the dome is lined with colorful mosaics and mounted on 6 massive columns lined with white marble. In the center of the mausoleum is a white marble bust of S. Aini.
The author of the bust is the sculptor A. A. Manuilov. A wide alley leads to the mausoleum, on both sides of which there are flower beds, near the mausoleum there are two flowering lawns. Evergreen cypresses and junipers growing along the alley, and the whole appearance of the mausoleum itself evoke a feeling of slight sadness on visitors and at the same time admiration for the talent of this great man.
The works of S. Aini "Slaves", "Orphan", "Death of the usurer", "Memoirs" and others, even during the life of the writer, gained wide popularity and were translated into many languages ​​of the world.
Geographical coordinates of mausoleum of Sadriddin Aini in city of Dushanbe: N38°37'31.45" 68°46'39.73"
Authority and photos by:
Tourist guide to the monuments of Dushanbe. year 2012.