Mausoleum of Uyabay Akzhanuly.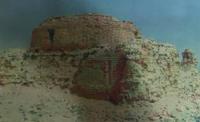 Group inclusive tour Kazakhstan.
"A story written in blood lasts longer"
Leisure package tour Kazakhstan.
The mausoleum of Uyabay Akzhanuly (1868 - 1893) is located 20 kilometers east of the village of Abai, the center of the Karakum rural district of the Aral district of the Kyzylorda region. The mausoleum was built in 1893 (data from the local history museum of the city of Aralsk).
Historical monument, built of baked bricks. Uyabay was famous as a kuishi singer who lived in the second half of the XIXth century. The exact location of the monument is unknown.
Authority:
Alexander Petrov.
The photo
from the local history museum of the town of Aralsk.