Memorial complex akyn Birzhan-sala in village Stepnyak.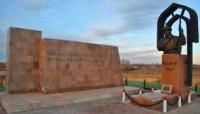 Information tours of Nur-Sultan.
"Zhanbotu-volost gave birth to Karpyk,
Zhanbota got used to ranks and authorities:
His friend, Aznabay, in broad daylight
He sent the dombra to be taken from me.
I am akyn. I did not give my dombra
Though I tried to snatch her villain.
With the people he beat me with Kamch ...
But the akyn did not die from that resentment,
Isn't death such a shameful fate
Has he buried it in the land of Birzhan?
Zhanbota! Where did you see such a law
To dare to beat, someone dared?..."
Birzhan-sala.
Walk on the lakes of Borovoye.
The akyn Birzhan-sala memorial complex was opened in 2012 in the village of Stepnyak, Akmola region. The memorial complex is an architectural composition installed on the highest point of the city. The memorial complex is an architectural composition installed on the highest point of the city.
The central part of the architectural and memorial complex is occupied by a sculpture six meters high. The sculpture is a figure of the great akyn, in his hands is a dombra, and his gaze is fixed on the distance. Around the monument there is a small square, a cozy gazebo installed, paths lined with paving stones, there are lawns, decorative lanterns and a fountain.
The author of this composition is Kokshetau sculptures Munarbek Burmaganov. The complex is built on charity funds collected by local residents. All work related to the construction was carried out by the local construction company LLP "Kasiet-master".
Birzhan sal impressed everyone with his expressive and beautiful voice, stood out among akyns, singers and artists. Each of his musical works gained wide popularity. Already at an early age, Birzhan-sal Kozhagul-uly (1834 - 1897) became famous as a singer with outstanding vocal skills, masterfully accompanying himself on a dombra.
Over forty of his songs have been preserved, among which such recognized masterpieces as Birzhan, Adaskak, Kokshetau, Zhanbota, Lyailimshyrak and many others. Birzhan-sal was also an unsurpassed master of aitys.
His poetic contest with Sarah Tastanbekkyzy, which took place in 1871 in Semirechye, became a classic of the genre. In 1946, composer Mukan Tulebaev based on this aitys wrote the opera Birzhan and Sarah, which included the main songs of Birzhan.
Authority:
"Based on field research. Ermaganbetova K. December 2016. "Register of memorial complexes built during the period of independence." "Practices and places of memory in Kazakhstan." Medeuova K.A., Sandybaeva U.M., Naurzbaeva Z.Zh., Tolgambaeva D.T., Ermaganbetova K.S., Melnikov D.N., Kikimbaev M.Zh., Ramazanova A.Ch., Tlepbergen A .B., Zhetibaev E.Zh., Orazbaeva D.E., Poltavets K.A.