Monument of Bauyrzhan Momyshuly.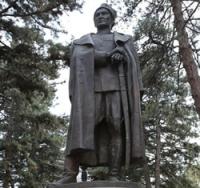 City tours of Kazakhstan.
"A feat for our people is not a sacrifice, but one of its everyday manifestations"
Vera Panova, "Satellites".
Sightseeing tour of the nature of Almaty.
The Bauyrzhan Momyshuly monument is located in the Park named after 28 Panfilov guards, on Gogol Street, the corner of Pushkin Street. Monument of art. Authors: sculptors N. Dalbai and R. Satybaldiev. The figure of B. Momyshuly in full growth is made of bronze, mounted on a granite pedestal.
The height of the monument is 6 meters. The monument was built in 2010 to the 100th anniversary of the Hero of the Soviet Union Bauyrzhan Momyshuly. Bauyrzhan Momyshuly (1910-1982) - Hero of the Soviet Union, retired colonel, participant in the Great Patriotic War.
He fought in the 316th (8th Guards) Rifle Division under the command of I.V. Panfilov. Author of the works "Our Family" (Abai State Prize, 1976), "Tulegen Tokhtarov", "General Panfilov" (1963), "Moscow Follows Us" (1958), based on which at the film studio " Kazakhfilm "director M.S. Begalin made the film. On the eve of 1982, Almaty became a city with a million people.
On December 29, 1982, a solemn event was held at the Wedding Palace to mark the appearance of a resident - a "millionaire". It turned out to be Bauyrzhan Kadyrsizov - the son of a carpenter and concrete worker SMU-22 of the trust Almaatapromstroy.
At the ceremony of registering the child, the front-line soldier Bauyrzhan Momysh-uly, with whose consent the baby was named, said with a startled voice: "...I seemed to be younger. I am happy that the millionth resident was called Bauyrzhan.
I am after all already over seventy, and as an elder I bless you, son, for peaceful affairs. Grow healthy, strong, become a full member of our society. And wherever you are, always carry in your heart love for your land, our beautiful Alma-Ata - the nest where you were born."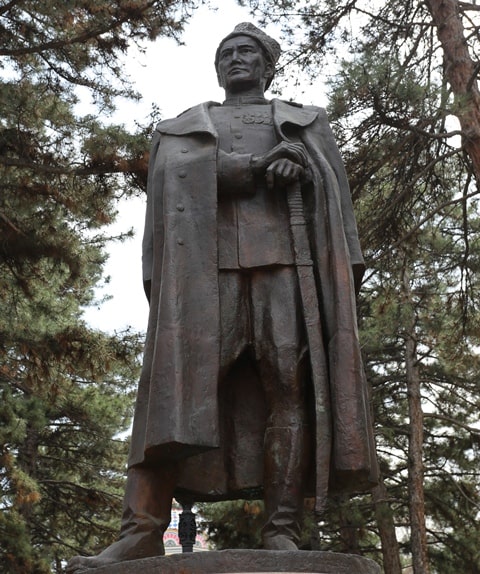 Literature:
Bokin Tokash. In the book: Almaty. Encyclopedia. Ch. ed. R.N. Nurgaliev - Almaty, 1996, p. 99; Matveeva L.A.
Monument to T. Bokin In the book. : Monuments of history and culture of Almaty. Catalog of documents of the Office of Archives and Documentation and TsGA of Almaty.
Almaty, Oner Publishing House, 2003, p. 160 - 161
Authority:
Vladimir Proskurin (Berlin).
Photos
Alexander Petrov.