Monument of Karasai and Agyntay in Petropavlovsk.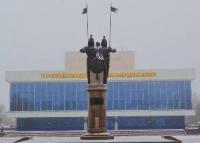 Excursion walks around Petropavlovsk.
"Your being is a moment of a higher, different life,
Thy intoxication - from an unearthly vine,
Immerse yourself in the collar of thought!
Your hand is a continuation of another hand."
Omar Khayyam.
Monuments of Petropavlovsk.
The monument to Karasai and Agyntay Batyrs was erected on June 22, 1999 in Petropavlovsk on Theater Square in front of the Pogodin Russian Drama Theater, at the intersection of two main city streets - the Constitution of Kazakhstan and Pushkin.
Nearby, there is the museum and historical complex "Abylay Khan Residence", the Peter and Paul Telecentre, the Humanitarian Technical College and the Ishim Restaurant. The monument is made of bronze. Sculptures of two warriors are mounted side by side on a granite pedestal.
The sculptural composition is cast from bronze by Belarusian masters, and its installation was carried out by specialists of the Petropavlovsk Heavy Engineering Plant under the leadership of representatives of the Union of Architects of Kazakhstan.
After creating a sketch, the sculpture was executed in clay, and then was dressed in bronze and Kurtinsky granite. The warriors together hold a shield symbolizing friendship and unity, in each other's hand there is a peak directed upwards.
The authors of the monument are sculptor B. Doszhanov, architect Yu. Dvornikova, S. Fazylova, granite master A. Gaidadym. The monument to Karasai and Agyntay Batyr is an architectural monument.
Authority:
http://srh.kz/content/mesto-zahoroneniyakiikbaya-batyrabaygarauly/