Monument to Keiki Batyr in Arkalyk.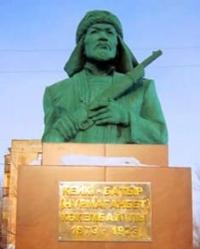 Monuments of Kostanay region.
"Who makes destiny - gods or people? Can one person affect the balance of power in the world? What is hidden behind the remoteness of time? Our time, the nomadic steppes of Central Asia during the first millennium BC, mysterious Tibet, the ancient Bon religion and the gods of the nomadic Turks, people of all times, their lives, their feelings, their actions, their beliefs and the importance of each life for people and gods. Truly, the path of the spirit must be traversed by human feet"
Nicholay Roerich.
Visiting monuments in Arkalyk.
The monument to Keiki-batyr is located at an altitude of 345 meters above sea level, located 50 meters northeast of the building of the local history museum in the town of Arkalyk, Kostanay region. The monument was erected in 2010. Keiki batyr holds his favorite gun in his hands.
On the left side of the monument to Keiki batyr is a monument to Vladimir Lenin.
Geographical coordinates of tKeiki batyr monument: N50°15'03.43" E66°54'25.98"
Authority:
Alexander Petrov.