Monument Lenin in Ashgabad.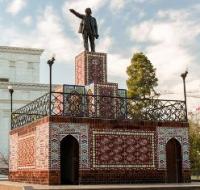 Monuments in Ashgabad.
"Dictators have to be afraid of the translator and the dentist as they are more powerful, than they"
Churchill Winston.
The monument to Lenin in Ashgabad is open in 1927. It is constructed at the expense of workers and peasants of Turkmenistan. It is one of the first monuments to Lenin and only which is executed in national style and is decorated with carpet ornaments.
The monument did not suffer during an earthquake of 1948. Monument to Lenin - a monument Russian and Soviet political and to the statesman, the revolutionary, the founder of Bolshevik party, one of organizers and heads of the October revolution of 1917, the chairman of the board of National Commissioners of RSFSR and the USSR Vladimir Lenin.
On January 27, 1924, in day of a funeral of Vladimir Lenin laying of a monument took place.
The commission on its construction of a monument was headed by the chairman of the Central Election Commission of the Turkmen SSR Nedirbay Aytakov. People voluntarily gave a part of the salary on a monument construction, performed many works on communistic community work days and voskresniks.
The sculptor is E. R. Tripolskaya, the architect - A. A. Karelin, the ceramist - N. I. Nazarov. On May 1, 1929 it was finally open for a public inspection. The monument sustained the Ashgabat earthquake practically without damages.
In Soviet period the museum was placed inside. Nowadays remains as a monument of culture of Turkmenistan. The monument is in Leninsk Square and is surrounded with fountains. A row located Theatre of Makhtumkuli and building of the Cabinet of Turkmenistan.
The monument is made of bronze, it is the statue altered in details created in 1924 by the Leningrad sculptor V. V. Kozlov. It is decorated with carpet mayolikovy panels. On a carpet pedestal words are traced: "To the leader from workers and daykhan Turkmenistan".
Authority:
https://ru.wikipedia.org/wiki