Monument "Tauelsizdik tany" in Almaty.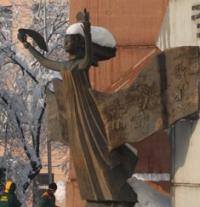 A tour of the monuments on the Republic Square in Almaty.
 "The December events that brought youth to the square were a harbinger of our independence."
The first President of the Republic of Kazakhstan N. Nazarbayev.
Sights of the Republic Square in Almaty.
The monument "Tauelsizdik tany" was unveiled on September 18, 2006, in memory of the victims of the December events in Almaty in 1986. The architect and project designer Timur Suleimenov. The weight of all the components of the monument is about 300 tons.
The monument consists of two pylons, which symbolize an outbreak of national identity and the triumph of freedom. The girl, in the center of the composition, expresses the symbol of freedom. In her right hand she holds a scarf - a symbol that calls people to reconciliation, in her left hand - a dove, a symbol of peace and good neighborliness, personifying the aspirations. s for flight and freedom.
Authority:
Kazakh Soviet Encyclopedia, 1983 3. Set of monuments of history and culture of the city of Almaty Ch. Editor B. G. Ayagan, 2006.
Photos
Alexander Petrov.