Museum of history of steppe region in Arkalyk.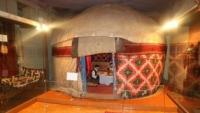 Tours to Arkalyk.
"Travel as the greatest and most serious science helps us to rediscover ourselves"
Albert Camus.
Excursions in Arkalyk.
The regional museum of the history of the steppe region in the town of Arkalyk, was formed by the decision of the Council of Ministers of the Kazakh SSR on February 4, 1972. On July 28, 1973, the first exposition was opened.
The first secretary of the Central Committee of the Communist Party of Kazakhstan D.A. Kunaev. At the origins of the formation of the museum were such people as the largest statesman of Kazakhstan Uzbekali Zhanibekov, the first leaders of the Torgai region Sakan Kusainov, Yuri Trofimov, Aidarkhan Sarsenov.
There is no doubt that every thing that makes up the museum's exposition plays an invaluable role in recreating the history of the steppe region. Uzbekali Zhanibekov, at that time, served as secretary of the Regional Party Committee on Ideology.
He personally collected museum exhibits from each village in the Turgai region. He put a lot of effort into reviving the national culture, language, customs and traditions of the Kazakhs. He supported creative people in every possible way who loved their people and appreciated the national heritage.
He made a great contribution to the collection of exhibits of the Museum of History and Local Lore. The museum funds contain more than seventy-five thousand exhibits, the reserve fund contains 23,000 exhibits.
The museum has eleven exhibition halls. The museum building with a total area of ​​1684 square meters. Over the years, the museum funds have been replenished with valuable exhibits. Cozy and deeply informative exhibition halls are filled with many secrets and fascinate from the very beginning of viewing.
Not only residents of our region come to admire the unique exhibits, but also foreign guests, well-known public figures of culture and cosmonauts. Good wishes and autographs in the guest book were left by such famous people as T. Aubakirov, T. Musabaev, S. Maulenov, G. Kayirbekov, S. Dosanov, B. Tolegenova, L. Kesoglu, A. Derbisali, I. Tasmagambetov and many others.
Museum address: Kostanay region, Arkalyk town, Kozybayev st., 30 Phone: 8 (71430) 72299: 8 (71430) 76033.
Authority and photos:
http://arkalykmuzeum.kz/ru/o-muzee.html