Nadir-Divan Beghi madrasah.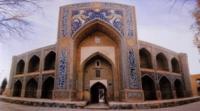 Monumental monuments of the Central Asia.
"He who conquers himself is the mightiest warrior" 
 Confucius.
Last minute tour in Samarkand.
The disciple of Khodja Akhrar, 'Abd ar-Rahman Djami wrote that "spiritually and socially he kept the people in order by the power of sanctity". Khodja Akhrar had great influence on the Temurids. His motto was: "To fulfill own spiritual mission in the world it is necessary to use political authority".
Being supported by commercial and agrarian circles, Khodja Akhrar had been an actual governor of all region within forty years. As a significant political force, "naqshbandiyyah" resisted the robbery of military-nomadic elite, so protecting agricultural and urban population.
One of his merits was that he managed to achieve final abolition of Chinggis-khan's "Yassa" and, in particular, to cancel taxes stated by it. Under the Temurid imperial aegis, "naqshbandiyyah" and personally Khodja Akhrar became owners of huge financial assets and lands.
Sales agents of Khodja Akhrar drove caravans to China, India and Iran. He owned over 60 thousand hectares of fertile lands around Karshi and Samarkand. The family of Khodja Akhrar owned enormous herds of sheep, horses and camels.
When a bad crop happened around Tashkent, Khodja Akhrar not only distributed corn from his private reserves among the population, but also paid the state tax instead of dehkans. Huge resources enabled Khodja Akhrar to build tens of mosques and madrasah as well as to finance numerous centers of "naqshbandiyyah".
In the  XV - XVI centuries, they operated in Bukhara, Samarkand, Merv, Khiva, Tashkent, Kokand and Heart. Significant groups of "naqshbandi" adherents existed in Chinese Turkistan, Afghanistan and Belujistan, Iran and India. 
Shaybani-khan's conquest of Maverannahr had much hurt the power of "naqshbandiyyah", and the property of Khodja Akhrar's family was confiscated. Nevertheless, the youngest brother of Shaybani-khan, Mahmud-Sultan became a supporter of "naqshbandiyyah".
His son, future supreme governor, Ubaidullah-khan (1533 - 1539) was educated in Sufi traditions and named in honour of Khodja Akhrar. Three major branches of "naqshbandiyyah" go from Khodja Akhrar: Central Asian, Western-Turkish and Indian, which have their adherents to this day.
The great sheikh left the works "Risalan Validiya (Parental message)", "Risalan Hauraye (Message about guriyah)" and "Fakarat al-arifshe (Paragraphs of penetrators)". In 1630 - 1631, rich Bukhara minister Nadir Muhammad Divan-beghi constructed a madrasah and mosque nearby Khodja Akhrar's necropolis.
This action demonstrated the recognition of great sheikh's spiritual heritage and the role, which "naqshbandi" sheikhs continued to play in Maverannahr at the Astarkhanids, in the XVII century. After Sher-Dor, the front portal of the new madrasah was decorated by pictures of tigers.
Now, the memorial complex of Khodja Akhrar includes the madrasah, summer and winter mosques, columned aivan and small minaret, erected in 1909 by architect Sagdullah. 
Authority:
Alexey Arapov. Samarkand. Masterpieces of Central Asia. Tashkent, San'at. 2004