Necropolis of Akshora.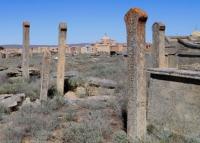 Tourism in Mangystau.
"There are no parallels between the past and the future. There is only memory. And there are lessons from history"
Guide to Hiking in Mangyshlak mountains.
The Akshora (Akshura) necropolis is located in the 47.8 kilometers to the east and a little to the south from town Fort-Shevchenko and 12.3 kilometers to the south-west of the Sultan-epe underground mosque in the Tupkaragan district of the Mangistau region.
The Akshora necropolis unites burials, mainly koitases of the XVth - XVIIIth centuries. Not far from the mausoleum there are ancient burials, which scientists date to the Oguz-Kipchak period of the X century. At the entrance to the necropolis there is a small dilapidated mosque.
The walls of the mosque are built of vertical stone slabs. There is a mihrab stone made of processed shell rock with a relief image of a lancet niche. According to researchers, a representative of the Kipchak-Nogai tribes inhabiting the territory of the Mangyshlak Peninsula is buried here.
Geographic coordinates of the Akshora Necropolis: N44°26'16,68" E50°51'41,98"
Authority:
https://karagandy.atameken.kz/ru/legendaries/156-akshora-i-beltoran
Photos by
Alexander Petrov.