Obelisk "Tatyr battle".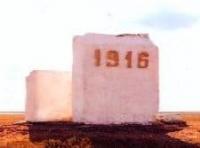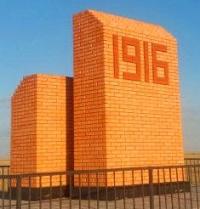 Tourist trips in Kostanay region.
"All who took the sword will die by the sword"
Bible, Gospel of Matthew.
Cognitive journey across Kostanay region.
The obelisk "Tatyr Battle" is located at an altitude of 102 meters above sea level, located 770 meters east of Lake Tatyr, 300 meters from the Taush-Torgai highway, 4 kilometers north of the Karatatyr tract. 2.6 kilometers southwest of the village of Tauysh, 14.9 kilometers northeast of the village of Sarysu, in the Dzhangeldy district of the Kostanay region.
The obelisk was erected in 1977. The reconstruction of the monument was carried out in 2017 - 2018. The architectural part of the obelisk is represented by two steles. The highest one reaches 3.5 meters, the height of the second stele is 2 meters.
In the upper part of the high stele, the figures "1916" are laid out with facing bricks, indicating the date of the battle that took place near Lake Tatyr. The territory around the foot of the stelae is paved with paving slabs, the monument is fenced with a metal fence.
The reason for the uprising, which later turned into a battle, was the royal decree on the call of the Kazakh male population for rear work. Mobilization was carried out during harvesting and preparation of livestock for moving to winter pastures, hay harvesting.
The call of the entire able-bodied male population undermined the economic base of the Kazakh economy, already shattered by constant seizures of land for immigrants. In fact, the remaining Kazakhs were doomed to starvation in the winter of 1916 - 1917.
By October 1916, in the Torgai and Irgiz districts, there were up to 20 rebel detachments, each of which had 2000-3000 people. On October 21, 1916, 4,000 rebels led by Amangeldy Imanov in the area of ​​Lake Tatyr fought with a Cossack hundred and a police detachment.
Dense thickets of reeds on the shore of the lake made it possible for the sarbaz to set up an ambush and, thanks to the surprise factor, decide the outcome of the battle in their favor. For the rebellious Kazakhs, this victory was important not only purely militarily.
Its significance should be assessed more in terms of moral, psychological and socio-political aspects. The news of this battle spread throughout the Kazakh steppe and strengthened the authority among the masses of Amangeldy Imanov and his other associates - the leaders of the 1916 uprising.
The battle at Lake Tatyr, its successful outcome contributed to the rise of national consciousness and the expansion of the national liberation movement, which covered almost the entire Kazakhstan. In this battle, the military talent of Amangeldy Imanov manifested itself.
Geographical coordinates of site of Battle of Tatyr: N49°58'28,06" E63°54'35,79"
Authority and photos by:
https://kraeved-kst.kz/int-map/ru.php
https://library-rudny.kz/news/obelisk-tatyrskoe-srazhenie/