Okota Bab mausoleum.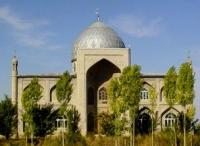 Trips to the monuments of Sairam.
"If diversity is a source of wonder, its opposite - the ubiquitous condensation to some blandly amorphous and singulary generic modern culture that takes for granted an impoverished environment - is a source of dismay. There is, indeed, a fire burning over the earth, taking with it plants and animals, cultures, languages, ancient skills and visionary wisdom. Quelling this flame, and re-inventing the poetry of diversity is perhaps the most importent challenge of our times" 
Wade Davis.
Tours from Almaty to Sairam.
The mausoleum is located in the northern part of the Sairam village in the Sairam district of the Turkestan region in the Honkuprik area. The real name is Okota Bab Shahobiddin Isfizhobi. According to the book "Risolai Sairam Isfizhob Shahobiddin Isfizhob", he was a teacher of Khoja Ahmed Yassawi.
Authority:
"Code of monuments of the South Kazakhstan region." Architectural and archaeological heritage of the South Kazakhstan region. In the framework of the regional program "Cultural Heritage". http://www.farsah.kz
Photos
Alexander Petrov.