Olenty neolithic drawings.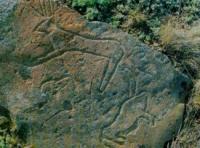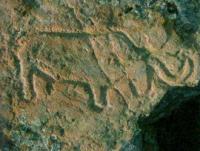 Tours on petroglyphs in Pavlodar province.
 "If an ancient man saw planes two thousand years ago 
He would've thought they were birds 
Or angels from another world 
Or messengers from other planets" 
Dejan Stojanovic.
Travel across Kazakhstan & Kyrgyzstan.
The petroglyphs are on the right bank of the Olenty River, 10km south-west of Tay Village in the Ekibastuz District of the Pavlodar Region. More than 50 petroglyphs were found on 17 surfaces of large blocks of light-brown sandstone rocks on the slopes of the river terrace.
The Olenty petroglyphs were discovered in the early 1970's by a regional ethnographer Mool O. In the 1990's, the site was explored by Mertz V.-K.; in 2005, the petroglyphs were examined by Samashev Z. A systematic research of the district revealed a great number of temporally different archeological sites: Neolithic and Eneolithic dwelling sites, Bronze Age burials and kurgans of the Early Iron Age nomads.
All the engraved rocks are on the steep slope of a terrace; their surfaces are encrusted with a thick layer of lichen. Individual drawings are pecked, but in the soft rock, most engravings were created by using a technique of deep carving, some even appearing as basreliefs.
Petroglyphs form small compositions consisting of several animal and human figures. Often, the drawings are grouped around one or two images centrally positioned: a human is in the center of one of the rocks with a panther, oxen, and other poorly discernible images.
There are erotic scenes. Animals include oxen with long horns curved upwards, horses with a fringe on their heads, deer, saiga antelope, and others. According to their stylistic specifics and iconography, two major pictorial traditions were identified at Olenti.
The first includes a series of humans (erotic couples, a birthing woman, archers) and oxen with horns either long or curving upwards, while the second one includes horses carved in a manner indicative of the Bronze Age Turbin-Seymin pictorial tradition.
Early images at Olenti have no accurate analogies among known Kazakhstan rock art sites; their repertoire, technique, style, and iconography are akin to images on bas-reliefs in the Apsheron Peninsula.
These early Olenti petroglyphs are supposedly dated to the Eneolithic – Early Bronze Age, and thus related to the earliest images of rock art in Northern Saryarka.
Authority:
"Petroglyphs of Kazakhstan" Z. Samashev.