Palace Bustan in Samarkand.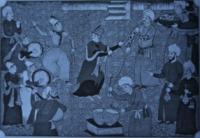 Excursions in palace ensembles Samarkand.
"Wonderful memories are like lost jewels"
Paul Valery.
Palace ensembles of Samarkand.
Intimate palace inside the citadel of Kala, whose name suggests that it was located in the fruit garden. This palace, like all the buildings of Kala, did not reach our days, although at the time of the earthworks there were tiles of the Temurid time.
Enlightener:
"Religious and spiritual monuments of Central Asia." Author M. Khashimov. Saga Publishing, 2001 Collection "Architectural and archeological monuments of Uzbekistan", Saga, 2003. "Samarkand. Reference Guide ", Authors I.Umnyakov, Y. Alekserov. Arapov A.V. Samarkand "Masterpieces of Central Asia". Media-Asia San'at Publishing House 2008. Arapov A.V. "Samarkand. Guidebook Publishing house Media-Asia San'ath 2007.