Palvan Kari Madrasah in Khiva.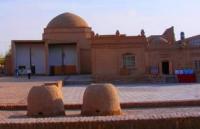 Tourist places of interest of Khiva.
"Khorezm," it is said here, "is a spacious country, from the fifth climate, with many cities and countless villages. His income from cereals and fruits; they will be born well; Especially tasty melon Khorezm. Its capital is Urgench. One of the cities of Khorezm is Khivak, from which Sheikh Najm ad-Two Kubra comes. Khiva is the capital city"
Muhammad Tahir (XVII century) "Aj'a'ib at-Tabakat", "Miracles of Discharges".
Recreational park  in Khiva.
s of Muhammad Rahim Khan II. He played a significant role in establishing trade relations with Russia, Bukhara and Turkey.
On profits from trading Palvan Kari decided to build madrassah and minaret. The madrasah consists of 17 hujras, summer and winter mosques and a high minaret. Decorative items are concentrated only at the front elevation.
Top of the portal is laid out by an ornament of green tiles and The angular towers are decorated with small green calottes.
Authority:
http://welcomeuzbekistan.uz
Photos
Alexander Petrov.