Patyr-Bashik lake.
Travel on mountain lakes of Kyrgyzstan.
«A lake is the landscape's most beautiful and expressive feature. It is earth's eye; looking into which the beholder measures the depth of his own nature»
Henry David Thoreau.
Heritage tourism in Bishkek.
The endorheic lake Pater-Bashik is located at an altitude of 3598 meters above sea level, located 35 kilometers southeast of the Sook pass at a height of 4021 meters above sea level, 3.7 kilometers east of the Karasai River in the Jety-Oguz district of Issyk-Kul region.
The length of the lake from southwest to northeast is 2.4 kilometers, the width of the lake in the eastern part is 750 meters. The area of ​​the lake is 1.15 square kilometers, the perimeter is 5.63 kilometers, the catchment area is 8.2 square kilometers, and the depth is 4 meters.
The lake is located on the border of the Central and Southern Tien-Shan. It is located in a flat and wide valley between the southern slopes of the Ak-Shyirak massif and the northern slopes of the Borkoldoy and Kokshaal-Too ridges.
Water is discharged by filtration through loose rocks of moraine origin. Small streams flow in, underground runoff is connected with a lake located 1.9 kilometers to the northeast of a smaller size (the length of the lake is 670 meters, the largest width in the northern part is 480 meters, the area is 0.24 square kilometers, the perimeter is 2.03 kilometers) which has flow into the Tez River, which is the left tributary of the Barlabas River, one of the components of the Maitor River.
The basin of Lake Pater-Bashik was formed as a result of subsidence in thick moraine deposits of an ancient glacier. The level of the lake varies throughout the year, maximum - in summer, minimum - in winter. Freezes in October, opens in May.
Geographical coordinates of Lake Pater-Bashik: N41°36'02.65" E78°06'17.98"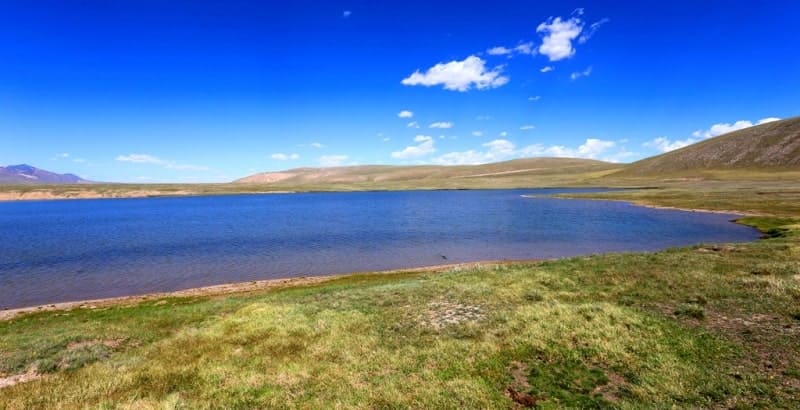 Authority and photos by:
Alexander Petrov.