Peak Lenin.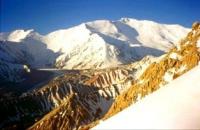 Сlimbing tour Pamit mountains Kyrgyzstan.
"Every mountain top is within reach if you just keep climbing" 
Barry Finlay. «Kilimanjaro and Beyond».
Rock-climbing tour peak Lenin.
Vladimir Ilyich Lenin was a Russian revolutionary, a communist politician, the main leader of the October Revolution, the first head of the Russian Soviet Socialist Republic and from 1922, the first de facto leader of the Soviet Union.
Mount Lenin, in the Pamirs, is one of the more beautiful and  - and this is of no small importance -  technically straightforward of the world's 7,000-meter peaks. I was drawn to it a long time ago by the opportunity it offered of exploring its many already charted paths high up there in the sky, and perhaps of adding to that list my own newly discovered route.
It's verdant to the point of lushness, the scenery prettied up - somehow - with rocks and boulders as well as the more conventionally appealing waterfalls and streams and intensely coloured alpine flowers; higher up, an immense glacier awful in its extent glistens threateningly, and narrow convoluted paths seem to confront you, to dare you to take them on.
And above all of this other-worldly world, a transparent deep blue sky of the utmost purity. A lot of people like it here. Your journey there begins in Osh, the southern capital of Kyrgyzstan. Then you drive along the Trans-Pamir Highway over Taldik pass, which is pretty enough in its way, where, conveniently, there is a yurt camp of the same name.
It's a good place to stop to drink from the mineral spring amid the eucalypt bushes and fir trees. And they'll feed you too. Stop further on, too, in the broad Alaysk valley, only 300 metres above sea level but 135 km long and 22 km wide. In the distance, its contours softened in the haze, you make out the Zaalaysk range, which separates this valley from the Pamirs.
Next stop is the base camp, on the Lukovaya Meadow, 3,800 metres up in Achik-Tash district. And now you have to leave your car behind: from here on, it's all on foot. But this base camp is a fine place. Not far from the tents and yurts a meltwater stream rushes loud and unstoppable down the mountainside; to the right of the river rises the possibly rather prosaically named Mount XIXth Party Convention - and yet in those days people believed in socialism; they had faith, and faith can make poetry of the most seemingly uninspiring of material.
PC is big, majestic; to the left, at the other end of Achik Tash valley, you see Mount Petrovskii, which is smaller but more elegant. You may not want to leave base camp: there's good walking here, lovely things, lovely alpine flowers to see; and it's got everything you need: lavatories, baths, table-service (what?!) a telephone, a computer...
And yet, for all these comforts, you never forget that you're in the wild here, that nature has you at her mercy rather than, as we are often more accustomed to think, the other way round. You may seek to delude yourself on this by retreating to the warm semi-darkness of a yurt; but poke your nose out the door and a gust of that mountain wind will carry that illusion away with it in an instant.
lose the door again and - .ow pleasant it is to be inside, warm again, well fed, with good human warmth around you, in this mountain setting that nobody has - yet - managed to disfigure. It's an odd combination of impressions you get here at base camp, of alpine prettiness, of comfort - and at the same time of extreme danger. It gives you the prickles.
So the prospect of leaving the camp behind you, and your view of the mountain, both beckon oddly to you: it's the promise of closer contact with raw nature, its dangers and its beauties. Mountaineers know this feeling. It's what brings them here from all over the world.
But anyway, it's time to go, time to start off again towards your reason for coming here. It's nice here, but it's time to go. Next stop is camp 1, at 4,400 metres above sea level an eight-kilometer walk which will take three or four hours.
When you reach Travellers', a verdant pass at 4,200 metres above sea level, a vast moraine opens up before you. Take care here: you're exposed to powerful winds which will knock you over with ease if they feel like it.
he pass marks a peculiar boundary on this first stage of your route, between the colourful and the sternly monochrome. It's not easy walking, especially if this is your first trip; and the change in your surroundings can be intimidating. It's not that this new world of greys and blacks and dirty browns is ugly, because it has its own beauties; only that it is sterner, less forgiving, harder, than the greens and yellows and specks of blue and pink you have left behind you on the other side of Travellers'.
In fact many people find after a while that this moraine landscape is more beguiling because of a sense that the mountain begrudges the impressions of beauty it yields up; so the impressions are felt more powerfully. Maybe...
You walk the five kilometers onto the glacier in what seems like a moment. Then round the next bend you see tents and a couple of yurts: you're there, nearly, at camp 1. They meet you with hot tea. Look around: it's quite comfortable here too - well, there are tents and a lavatory; and you can rent a yurt if you want to have a party - which, by the way, people do...
The camp is on the moraine itself and gives you a superb view of the mountain. It's especially beautiful at sunset, when you can see the moon quite bright on the flank of the mountain, painted all orange by the setting sun. It's no less beautiful at dawn, when that rare unnatural morning light gives it a mystical appearance.
The summit looks close enough to touch, almost, in the clear air; but that is of course an illusion: there still remain many hours' arduous and yet fascinating trekking. But that's why you came... It's not easy to explain why - to what purpose - people take the conscious decision to risk their lives in this wonderfully beautiful, but to the same extent horribly dangerous part of the world.
But I'll tell you a secret: most climbers don't know either. There's something bigger in it than other so-called extreme sports. There's an element of courage; there's something of a desire to subdue the unsubdued; there's something here connected with learning and testing your limits.
It's not just how safe you are that's put to the test here, it's everything: friendship and love, willpower, character. And there's the time element too: it seems, at odd intervals, to contract to a fraction of its normal extent.
And things happen here quickly too, sometimes too quickly, so that sometimes there's no time to sit down and take it all in. And you get to know people. If in ordinary life it takes months to get to know someone, here the journey from one camp to another will tell you all you need to know.
And then it's another world here, with other problems, other joys and sorrows. It's complete, this world, in its own way; but very, very different. Early morning. The snow under your feet sparkles, the cold wind blasts away the remnants of your dreams.
The summit awaits you: the summit! Will it allow you, by your own hard effort - effort you'll rightfully pride yourself on later -  to complete your journey so that you can share its view from 7,134 meters up? Who knows? Indeed, who knows?
But now it's time to move on to camp 2; then there'll be camp 3; and then?... But I've written enough. It's all down to you now. You have to be there yourself.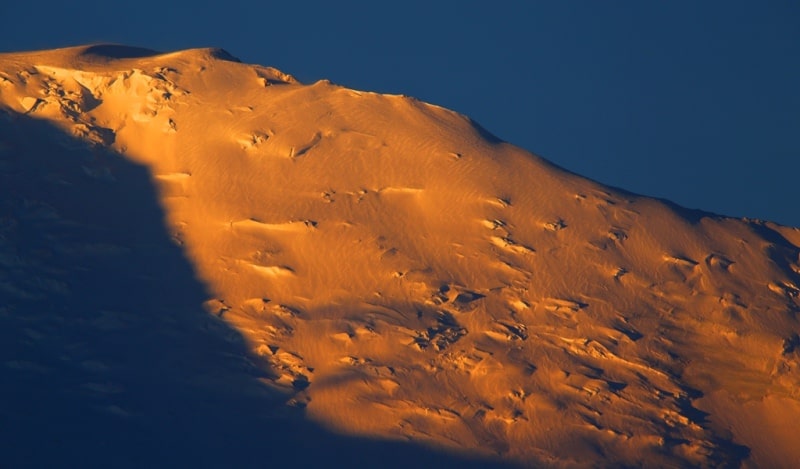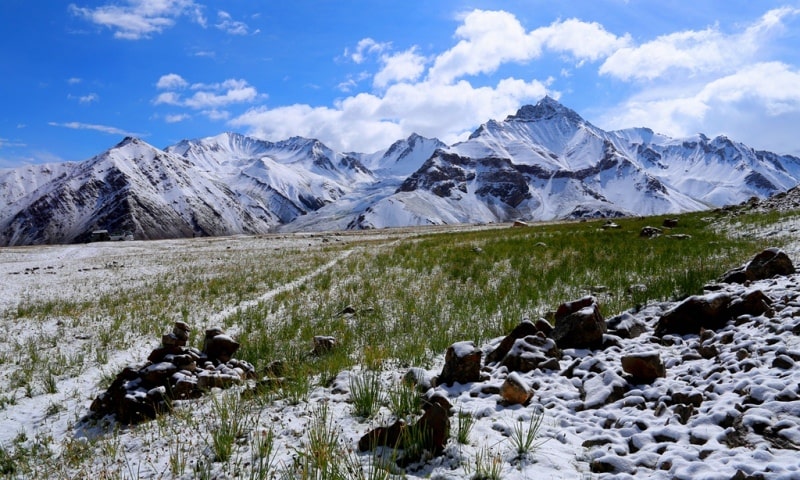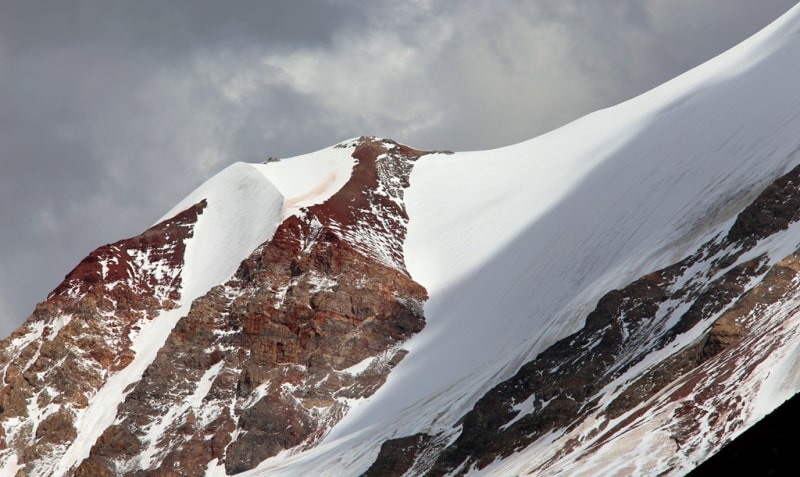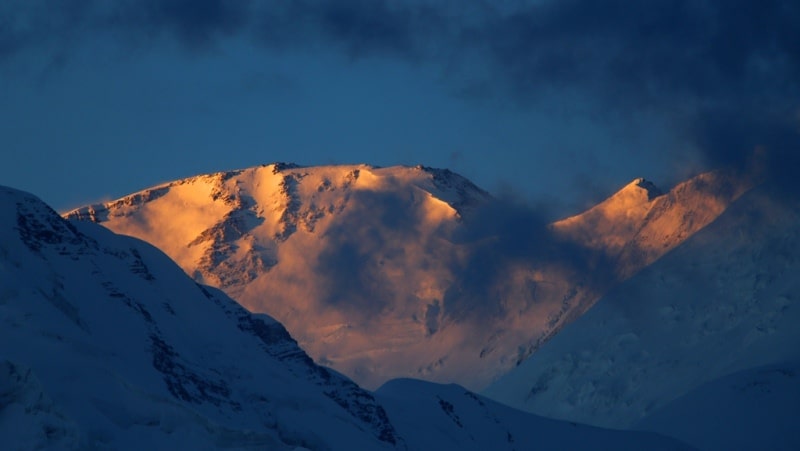 Authority:
Ekaterina Guz. http://www.discovery-central-asia.com/
Photos
Alexander Petrov.