The peak Marble Wall.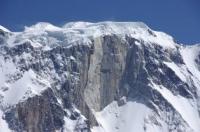 Climb to Central Tien-Shan Peaks.
"What are men to rocks and mountains?" 
Jane Austen. «Pride and Prejudice».
Tours to Bayankol gorge.
The peak the Marble Wall is in the ridge Meridional in Raimbek district in east part of Almaty region. In a middle part of two western ridges which adjoin in the Meridional ridge - Tengritag and Sarydzhaz in the center of mountains of the Central Tien-Shan.
The top the Marble wall is located to the north of peak of 100 years of VGO (6270 meters above sea level), in the area of the Meridional ridge in 2 kilometers 600 meters. Is the most northern in the Central Tien-Shan.
Top height Marble wall of 6261 meters above sea level. Through top from the North on the South there passes the frontier of Kazakhstan with China. From West side of peak the Marble wall, there where the vertical wall breaks in a chasm, glacier sources Northern Inylchek begin.
Glacier extent Northern Inylchek across the territory of Kazakhstan from a wall the Marble wall to border with Kyrgyzstan of 11 kilometers. Total length of a glacier Northern Inylchek of 38 kilometers, including length of the seasonal lake Mersbakhera.
The snow top from the West is decorated by a kilometer wall from black and yellow marble, with hanging from above a huge glacier.
Authority:
Alexander Petrov.
Photos
Sergey Mikhalkov, Ilya Naimushin.