Petroglyphs in Chiyim-Tash valley.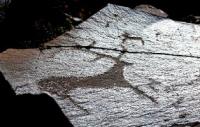 To see these petroglyphs in Kyrgyzstan.
"Does progress mean that we dissolve our ancient myths? If we forget our legends, I fear that we shall close an important door to the imagination" 
James Christensen.
Tour of Chiyim-Tash Petroglyphs.
Chiyim-Tash is in the upper reaches of the Chiyim-Tash valley. The river is a left tributary of the Ur-Maral River at the foot of a mountain pass with the same name (3,601m altitude). Several slate blocks, 10m high, 80m long and 10m wide, stretch NE-SW with a 15 - 20° inclination south.
Many petroglyphs with superimpositions are found on their vertical and horizontal surfaces facing north-west. In front of the rocks, horizontal stone sites were possibly used to perform certain ritual acts. Engraved surfaces are on the north side. Larger drawings are found on top of the rock.
There is a total of more than 1,000 petroglyphs. Most drawings depict animals (goats, deer, camels, horses, dogs, predators, and others) and humans (including archers in hunting scenes), chariots, wagons, tamga signs and undeciphered ancient inscriptions, as well as inscriptions of visitors in Arabic script from the XIXth - XXth centuries.
The structure of chariots depicted on one of the horizontal surfaces is of special interest. The drawing technique varies: pecking with large and fine dots, notching, and engraving. The pecking depth is 1 – 4 mm. Tentative dating goes from the Bronze Age to New Times inclusively.
Protection and Management. The site is not on the Kyrgyzstan List of Historical and Cultural Sites; no physical protection is provided. Current Condition. Since the site is in a hard-to-reach area, the condition of the petroglyphs remains satisfactory.
Rysakov R.Ya. wrote that the petroglyphs are also along the Chiyim Tash River tributaries: 7 locations were found near the confluence of the Kashka-Suu and Chiyim Tash, with 150 rocks and boulders with petroglyphs –Tuyuk-Tor; 2 sites with drawings are near the confluence of ChiyimTash and Tabylgaty. (Rysakova 1983: 12).
No data is available on the current conditions of these sites; they are not itemized in official lists of sites. In addition to the three main areas of concentration of rock art sites in the Talas Valley, scarce locations of petroglyphs have been registered in the valleys of rivers Nyldy (3 sites), Chompol (1) Kyrgyz Alatoo, as well as rivers Kalba and Besh-Tash in Talas Alatoo.
Besides, there is another known group in the south-western part of the valley near the Kyrkuro River and its tributaries, where runic and Sogdian inscriptions were found in addition to petroglyphs. No information is available about the current status of these sites. Proposals for Serial Nomination. Reasonable candidates for inclusion into this nomination include the following sites:
a) a group of high-altitude sites in the upper reaches of the Ur-Maral River including ZhaltyrakTash, Chiyim-Tash, and, possibly, a number of other sites identified in this area;
b) a group of locations in a medium-altitude hill terrain in the valley of the Kenkol River and its tributaries;
c) a location in the southwestern zone Maymak, Kurkuro-Suu.
Authority:
«Rock Art in Kyrgyzstan». Bakyt Amanbaeva, Aiday Suleymanova, Chynarbek Zholdoshev.
Photos by
Alexander Petrov.