Petroglyphs in Cholpon-Ata.
Petroglyphs Guide Tours in Cholpon-Ata. 
"If diversity is a source of wonder, its opposite - the ubiquitous condensation to some blandly amorphous and singulary generic modern culture that takes for granted an impoverished environment - is a source of dismay. There is, indeed, a fire burning over the earth, taking with it plants and animals, cultures, languages, ancient skills and visionary wisdom. Quelling this flame, and re-inventing the poetry of diversity is perhaps the most importent challenge of our times" 
Wade Davis.
Archeology & Petroglyphs in Kyrgyzstan.
Rock Drawings in Cholpon-Ata dating back to the third millenium BC, they have been discovered in a number of sites in Kyrgyzstan. There is a major collection in Cholpon-Ata, mainly depicting animals and hunting scenes.
Cholpon-Ata consists of three sites close to one another:
1) a central location in the north-western edge of Cholpon-Ata town;
2) a southern one, near the airport;
3) a northern one near Bezhayevka. The best preserved is Rock Art in Kyrgyzstan 51 the latter and partially the central one. The total number of stones with petroglyphs presently amounts to 1,200 (Nurmametov 2004: 147).
Motifs, quite diverse, include animals and humans, with hunting scenes and pursuit, and depictions of weapons. A small group of drawings showing predators and goats with a technique of abraded grooves and bitriangonal drawings in the Saymaly-Tash style are considered the earliest.
Most date to the Early Iron Age with images in the Saki zoomorphic style: large contour figures of goats and deer with ornamented bodies, outlined goats, camels, dogs, deer, boars and some predators; depictions of archers and akinak swords also date to that period.
The most numerous group of petroglyphs date to the Usun period: individual and paired goats, multi-figure compositions with goats in rows, hunting scenes, and juxtaposed animals. Turkic petroglyphs are represented by geometrized goats, as well as horse and camel riders, camel caravans, individual hunting scenes, and tamgas.
Palimpsests and refreshed drawings are also found (Tashbaeva 2004:105-106; Nurmametov 2004: 148). The drawing technique depends upon the type of rock surface: fine and thick pecking on smooth surfaces and coarse and sparse pecking on coarse ones.
Kyrgyzstan abounds in monuments of  prehistoric art. One of the most remarkable petroglyph sites is the Cholpon-Ata mountain area in the Issyk-Kul region. (Cholpon-Ata means "father of the morning star").
The Cholpon-Ata open-air museum, created in 1987 and listed as a UNESCO World Heritage site, is located at the foothills of the Kungey Ala-Too Range, at an altitude of 1600 - 1800 meters.
This unique site covers an area of 42 hectares and comprises thousands of granite boulders adorned by hundreds of carvings.
There are about 400 stones with petroglyphs at the site. The stones, which were used as "canvases" by skillful ancient and medieval carvers, vary in size from 30 cm to 3 meters; they were deposited by mountain torrents at the locality.
The images on the stones are stylistically diverse and are dominated by depictions of animals such as ibexes, deer, argali (mountain sheep), camels, horses and snow leopards. Hunting scenes, attacks of animals by beasts of prey, numerous images of horse riders and archers as well as depictions of nomadic tamga (emblem) can be encountered.
A great number of carvings at the site are from the Scythian-Saka epoch that flourished in the  VIIIth - IIIrd centuries BC.
These are some of the most stunning examples of the Scythian-Saka "wild animal style" in Central Asia. According to the opinions of some scholars, the Cholpon-Ata historical site provides evidence of being an immense open-air temple used for solemn ceremonies that were a part of spiritual life of the early nomads.
At the museum complex there are circular stone structures preserved as part of an ancient observatory. One of the local features is that there are ancient burial sites connected with the stone carvings.
There are scores of petroglyph sites which frame Issyk-Kul Lake, however, the images of the north shore outnumber those of the south and west sides. This is because the gorges and grottoes of the south shore have not been extensively explored.
Nevertheless, there is one more exceptional locality of petroglyphs in the Issyk-Kul region - Ak-Chunkur (in Kyrgyz it means "White Cave") situated 3000 metres above sea level. The occupation layer of the cave has a late Stone Age character.
As the result of excavations, stone implements were discovered in Ak-Chunkur. The walls and cupola of the cave are decorated by depictions of animals and inscriptions in red iron ore and black dye.
The Japanese development agency, JICA, is working with Kyrgyz women to produce high quality felt products using natural dyes and petroglyphic patterns. Passengers on an Uzbek Journeys tour to Kyrgyzstan explore Cholpon Ata's stone garden before heading to Karakol. It is a fascinating site.
And you can also visit the the small boutique in Karakol that sells the JICA-supported items.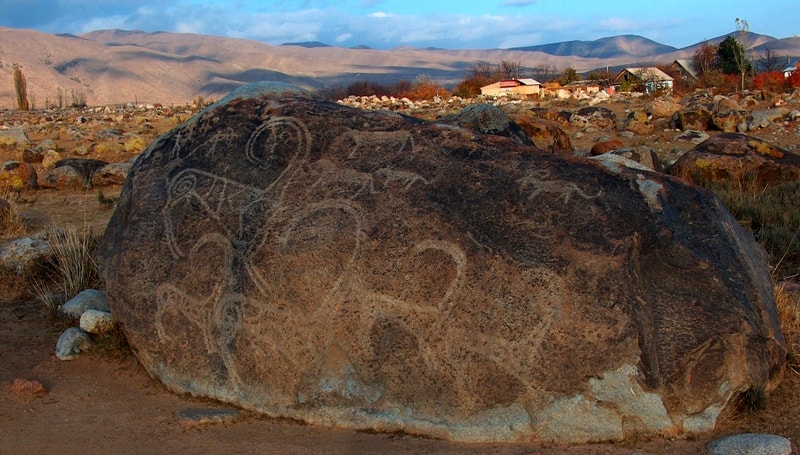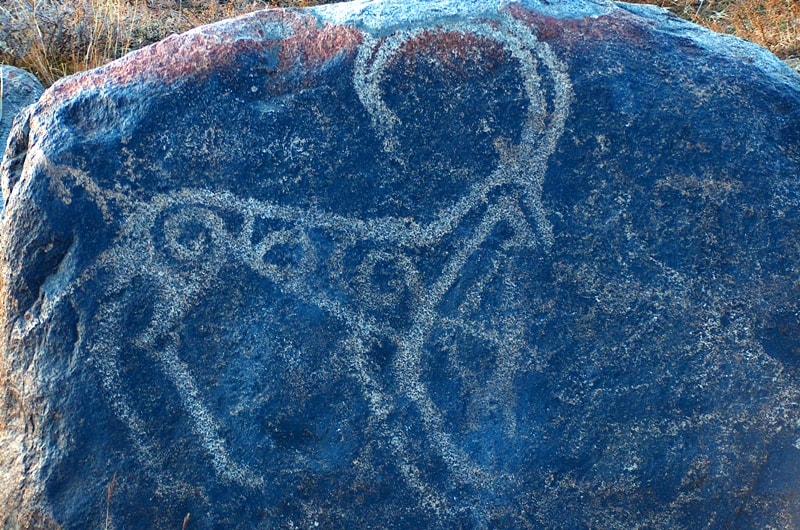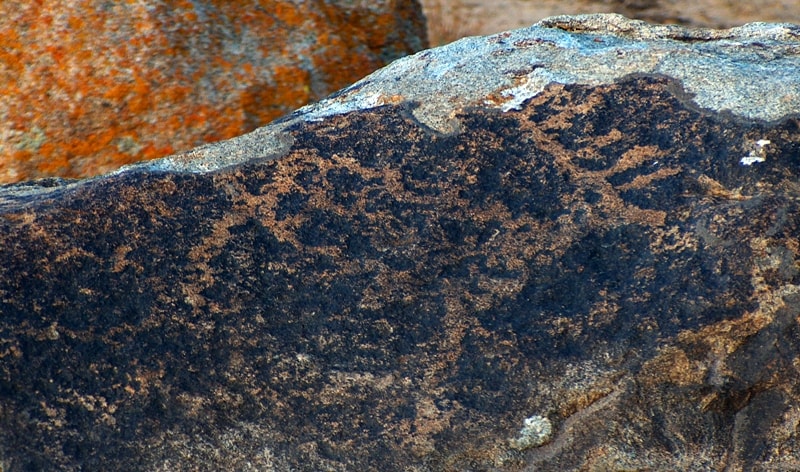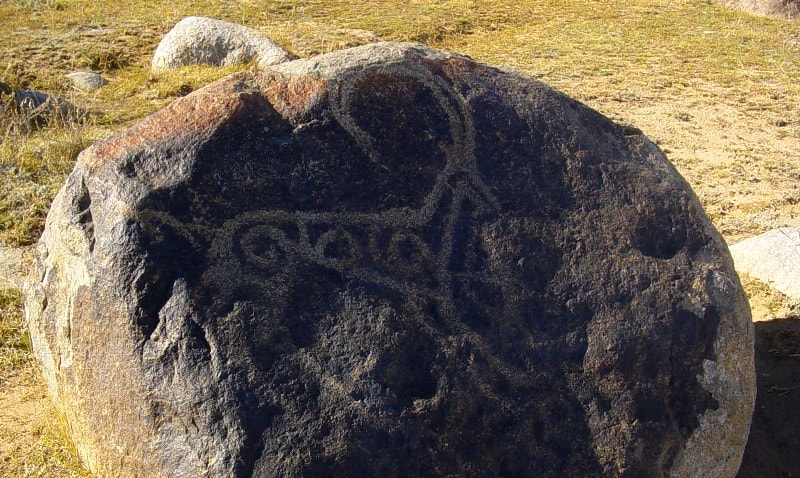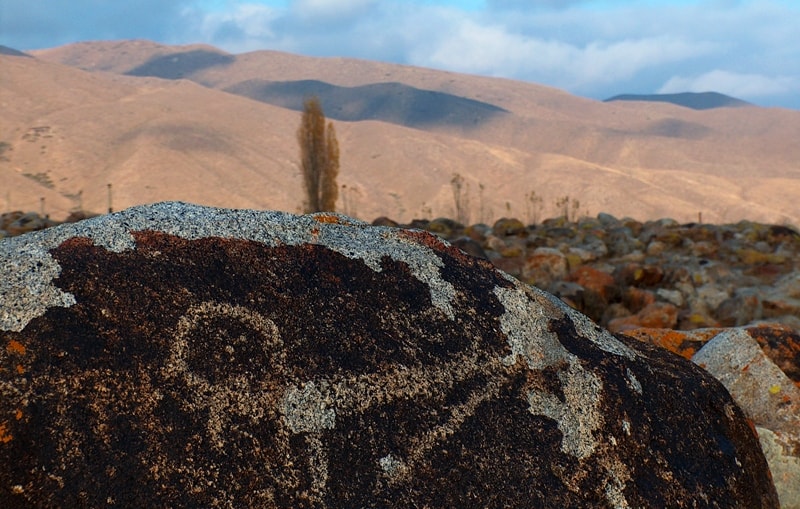 Authority:
«Rock Art in Kyrgyzstan». Bakyt Amanbaeva, Aiday Suleymanova, Chynarbek Zholdoshev. Lilya Kas'yanova. 
Photos by
Alexander Petrov.