Petroglyphs Unkur-Tash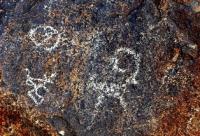 Historic Petroglyph Kyrgyzstan.
"It was up this causeway that the Tajik ancestors, the Sogdians, had fled from Arab invaders in the eighth century. For more than fifteen hundred years they had lived along the Zerafshan in a loose-linked galaxy of oasis princedoms. Rut Turkic and Arab incursions at last confined them to the great cities, where their Tajik descendants survive, or drove them deep into the mountains, and the valley which we followed still seemed to echo their desperate migration"
The Lost Heart of Asia, Colin Thubron.
Legend Rock State Petroglyph Site Tour in Kyrgyzstan.
Petroglyphs Unkur-Tash the sites are located 30km north-east of Jalal-Abad City, 12 km south of village Oktyabrskoye, within the jurisdiction of the Bagysh Suzak district, at an altitude of 1,355m. Coordinates: NL 40 59 14.7, EL 73 09 12.8.
Both sites represent shallow overhangs 1.2km away from one another, on peculiarly shaped rock outcrops on the right bank of the Butulu-Say River near the Jalal-Abad resort. The left bank is overgrown with mixed forest, wild almond, blackthorn; cherry plum brushwood is found on the right bank.
In 2001, both sites were surveyed by a group of archeologists led by Tashbaeva K.-I. The drawings were photographed and copied on a transparent material. The drawings are painted with dark-red pigment on closed surfaces.
The sites were preliminarily dated to the Middle Ages. In 2005, the drawings were examined, but not published, by associates of the Department of General History of Jalal-Abad State University. In 2009, a South-Kyrgyz archeological party documented paintings (photos, indexes, and copies on polyethylene film), and an archeological exploration was carried out.
Sixteen groups of drawings with a total of 175 images were identified. Rock samples collected in different sites were submitted for identification to the South-Kyrgyz geological expedition (Osh City). Petroglyphs Unkur-Tash two rock overhangs are located in the lower part of sandstone outcrops of significant height aligned along a north-south line.
There are rocks with two cultic sites –Tepshi-Tash and Teshik-Tash – to the north of the first one, Unkur-Tash 1, in the lowland at a distance of 25km. The overhang is shallow (only 1.5 - 1.7m) and 40m long. The drawings have practically vanished; in different places one can see traces of dark-red and dark pigments.
Behind the bend of the rock, there is a second overhang, Unkur-Tash-2, 180m long, deeper and higher than the previous one. Paintings can be found on the surface facing east, and, as a rule, at human height, rarely higher.
Rock relief utilization was noted: images are painted in rounded natural niches, on surfaces protected by an overhang; an artificial cup-shaped cavity 25cm in diameter was hammered in a horizontal place adjacent to the rock under the southern edge of the overhang, which opens to an excellent panorama of the adjacent territory.
Authority:
«Rock Art in Kyrgyzstan». Bakyt Amanbaeva, Aiday Suleymanova, Chynarbek Zholdoshev.
Photos by
Alexander Petrov.