Residence the Islam-Khodja.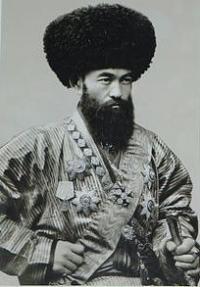 The walking tour on monuments of Khiva.
"Accidentally confronting a Gentile, do not harm him.
God does not love people with a cruel heart.
Behind the coffin the punishment of the cruel awaits:
They will languish in the dungeon.
Such advice I heard from the wisest
Now I give it to you.
There is no former generosity among our people ...
Truths of shahs and sights erased the trail ...
God rejects dervish vow ..
For the people - a time of terrible misfortunes, o people!
Good manners left the people
Graceful girls shamelessness swept.
"Where shame is morality," said the Prophet.
Unscrupulousness is the universal grave"
Ahmed Yassawi.
Khiva on Silk Road Tour.
The residence the Islam-Khodja, education the adviser of Asfandiyar-khan, consists of the smallest in Khiva madrasah (42 khudjr-rooms for pupils) and the highest minaret (57 meters).
Together structures represent unusual, but a harmonious architectural ensemble. Known masters of an epoch took part in its construction. Minaret the Islam-Khodja name a symbol Ichan-Kala. At height of 45 meters there is a viewing platform from which all city is visible.
Furnish of a minaret overglaze a tile gives to a monumental structure ease and grace. Interest for fans of architecture furnish of an input and walls madrasah represent a dome hall and maiolica.
That who is not indifferent to history, it will be interesting to hear about tragical destiny the Islam-Khodja which progressive ideas have not found the response at contemporaries, as has brought it to ruin.
Authority:
«Khiva city and legends» the tourist guidebook across Khiva.