Restaurants and night clubs in Almaty.
Mountain Family Walking Tour in Almaty.
"Why do you go away? So that you can come back. So that you can see the place you came from with new eyes and extra colors. And the people there see you differently, too. Coming back to where you started is not the same as never leaving" 
Terry Pratchett. "A Hat Full of Sky".
Leisure in Almaty.
Kazakhstan becomes one of the most popular backpacker's itinerary, and perhaps its most interesting city offers many of its best attractions. Almaty bars and cafes considered to be one of the finest in the country and this brief guide will let you know where you should go out and enjoy yourself.
Guinness: Calling Live Music Lovers in Almaty.
A favourite pub of locals and foreigners alike is called Guinness, located on Dostyk Street. Here you can also find great international cuisine, check out excellent live music, and rub shoulders with the many "ex-pats" who dwell in Almaty. Guinness has a vast range of imported beers, and no cover charge to get in.
Tinkoff: Something a Bit Different in Almaty.
For a different kind of Almaty bars and cafes experience, check out Tinkoff, a Russian brewery that opens its doors to paying customers who wish to sample its many local beers. There is good Kazakh fare in it. The building is divided into 4 floors, and you can sit and have a drink or a meal on the roof if the weather is good. There is also a TV here, showing international and local sports.
Madlen For It in Almaty.
Arguably Almaty's premier cafe, Madlen serves fresh bread, bagels, coffee, a plethora of desserts, sandwiches, and Greek cuisine prepared by expert Turkish chefs. Prices range from $15 - 35 for a meal. You can also make use of their WiFi service if you have a laptop.
Solomon: The Place to Be in Almaty.
Another well-loved venue among Almaty bars and cafes is Solomon, located on Bogenbay Batyr Street. It serves a great business lunch from 12 noon to 3pm, and is open 24 hours. It plays a goods election of Latino-American music and the average cost of a meal is 5000 - 6000 tenge.
Going Later into the Night in Almaty.
If you want to drink or dance at night, then Almaty offers a rich selection of nightclubs, so many, in fact, that the city is  now called "club city." There are generally two types of clubs: bars where you can dance, and dance clubs that are more like sit-down restaurants.
The latter category tend to be high-energy, techno-fuelled, crowded places with low lighting. However, in other venues one can play pool, listen to indigenous live music, and drink good quality beer.
Cover charges are around 700-900 tenge for females, 2000 for males. The standout Almaty bars and cafes in this respect are Xanadu in Hotel Ankara on Zheltoskan 181, Incognito at Abaya on Dostyk 87, and Petroleum Club on the 5th floor of Shevchenko. None of these places have a dress code.
Dolcetto Lounge Bar in Almaty.
Dolcetto Lounge Bar opened to the public quite recently, but has gained popularity among locals and tourists as a great place for a relaxing evening out. Located on the first floor of the Vernisazh restaurant, it welcomes visitors with its dim lighting, comfortable sofas, round black tables and photos on the walls. Its selection of local cocktails are very refreshing.
China Town Dance Bar in Almaty.
China Town Dance Bar is a funky place located in the center of the city, just opposite of Panfilov Park. The dance floor gets electrified to the tunes of the local DJs who spin trance, techno, hip hop, Russian and Kazakh pop music and much more. The prices are quite affordable and the staff is very friendly.
Bar Chukotka in Almaty.
Bar Chukotka is located in Panfilov Park, not far from Arbat Street. The atmosphere is very lively, featuring a variety of shows, including karaoke nights, DJ battles and many other interesting events. Football fans will also feel as if they are at home there, as the bar provides two large screens for every major game.
Pride Club in Almaty.
The Pride Club is among the best nightclubs in Almaty. This club boasts a spacious dance floor and loads of entertainment. It is also known for playing the best tunes in town, so get ready to dance till the early morning. Another attraction is its illuminated bar, which can produce 16 million multi-colored variations.
My Town Club in Almaty.
My Town is a dance club where you can let your hair down. The club has themed nights and features a variety of music, including salsa and techno. It gets packed on weekends, but there is still enough space to squeeze in. Be sure to try its selection of refreshing cocktails.
Kazakhstan.
Kazakhstan is a large entertainment complex that contains three different venues under its roof. The York Pub is the place to go for fresh beer and watching the latest football games. Men's Club 13 is a stylish cabaret bar with lots of great shows, and at the Karaoke Club you can be the star of the evening.
Esperanza Night Club in Almaty.
Esperanza Night Club is a top night club on Seifulina Avenue that offers quality music and premium service. Open from 10:00 pm until 6:00 am, it features themed events, bartender shows, cocktail parties and much more.
 4А Coffee in Almaty. 
4А Coffee is a traditional coffee shop located on Zhibek Zholy, a popular shopping street. According to some magazine reviews, it is considered one of the places in town for coffee. The staff is very friendly and efficient, serving a variety of flavorful choices.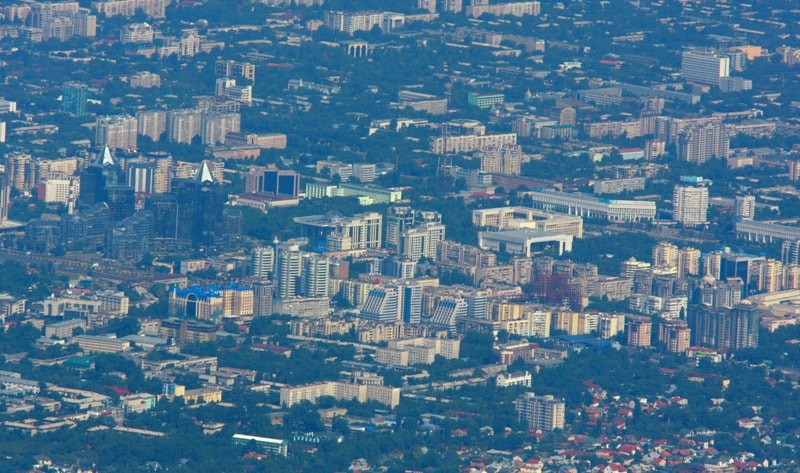 Authority:
The guidebook across Kazakhstan . Authors Dagmar Schreiber and Jeremy Tredinnick.   Publishing house "Odyssey".2010. 
Photos
Alexander Petrov.