Seyit Jahmal-Etdin mosque.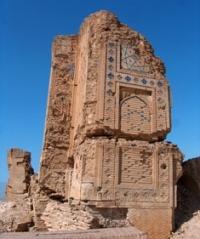 Visit of archaeological monuments of Turkmenistan.
Guided tour in Turkmenistan.
In the ancient settlement of Anau, in 18 kilometers from Ashgabat mosque ruins Seyit Jahmal-Etdin - "The house of beauty" are visible.
This history is more than five centuries old. To this beauty and now will delight anyone.
On the mausoleum, an entrance arch two impressive dragons - "azhdarkh" stylistically reminding traditions of imperial China were represented earlier.
Scientists notice that these "living beings", and their images, as is well-known - taboos for architects of Islam, were a totem at one of the Turkmen tribes.
Authority:
On materials of information department of the State committee of Turkmenistan on tourism and sport. "Religious and spiritual monuments to Central Asia". Author M. Hashimov. Saga publishing house, 2001