Shomanai mountain.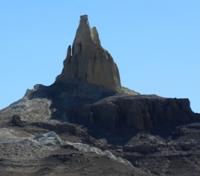 Heli-Bike Cycle Tour Mangyshlak Kazakhstan.
The creation of a thousand forests is in one acorn"
Ralph Waldo Emerson.
Ecotourism Mangyshlak.
The mountain of Shomanai is in the valley Ayrakty-Shomanai in Mangistau Region.
The mountain Shomanai of a around as fantastic locks with spikes, towers, columns and fortifications.
The wild twisting track brings on the small platform with which the panoramic view of the far mountains of Aktau opens.
In the damp spring the valley becomes covered by small, but gently fragrant tulips Sogdiana.
The ridge from small island mountains are known among local population under the name of Ayrakty-Shomanai.
In 1851 being in exile to the Fort Shevchenko, the great Ukrainian poet and the artist T. G. Shevchenko visited here.
These mountains so made an impression on it, and he made a series of drawings under the poetic name "Valley of Locks" here.
Authority:
Andrey Astafyev, city of Aktau.
Photos
Alexandre Petrov.