Sook Ridge.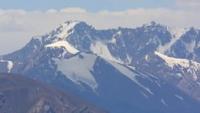 Landmarks of Kyrgyzstan.
"We do not notice the air, but we suffocate without it. So it is with wildlife. Only when we lose it completely, then we realize that we have lost..."
Nikolay Sladkov.
Natural Wonders of Kyrgyzstan.
Sook ridge is located south of the eastern spurs of the Terskey Ala-Too ridge, south of the Arabel valley, in the southwest of the Ak-Shyirak ridge, east of the Jetim-Bel ridge in the Inner Tien-Shan in the Jety-Oguz district of the Issyk-Kul region.
The extended mountain range stretched out in a sublatitudinal direction from the southwest to the northeast, divided into two ridges: the southwestern part of the massif passes into the Jetim-Bel ridge, the northeast into the Sook ridge.
The watershed between the two ridges is: on the south side, the Sarytor River, which originates on the southern slope of the Sarytor Pass at a height of 4050 meters above sea level, flows into the high-altitude lake Ekurgen-Kel located at an altitude of 3628.5 meters above sea level.
To the north, the southern sources of the Burkhan River, 66 kilometers long, flow down, which merges with the Dzhilisu River and gives rise to the Bolgart River south of the Keryu-Karagomak Mountains. The length of the Sook ridge is 31 kilometers, the maximum width in the central part reaches 14 kilometers.
The southern boundary of the ridge is the valley of the Taragai River, which stretches from the southwest to the northeast. The border of the ridge in the northeast is the valleys of the Kashka-Su and Arabel-Su rivers. The northern boundary of the ridge is the Arabel valley and the Arabel-Su river.
The highest dominant height of the ridge is an unnamed peak 4481.1 meters above sea level, located 2.6 kilometers east of the Sook pass. The second highest peak is Maitor, which rises 4573.2 meters above sea level, located in the eastern part, in the center of the glaciers - Maitor North with a length of 2.9 kilometers and Maitor South with a length of 3.5 kilometers.
In the northern part of the ridge there are swampy syrts, the sources of the Arabel-Su river and numerous Arabel lakes. In the western part of the ridge, through the Sook pass, there is an automobile road connecting the syrts of the Inner Tien-Shan with the Issyk-Kul valley, and a high-voltage power line.
On the road A 364 you can get to the frontier outpost Karasai, the Uchkoshkon deposit and through the Ashu-Suu pass you can get to the Uzengegush river valley.
Geographic coordinates of Sook Range: N41°48'38.43" E77°52'26.09"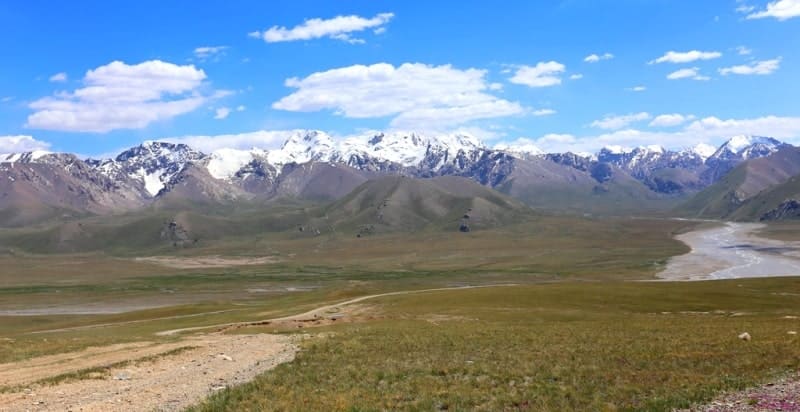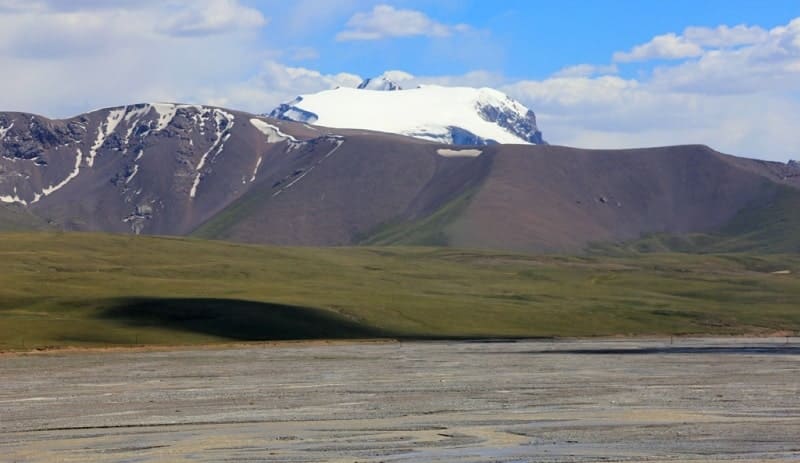 Authority and photos by
Alexander Petrov.