Surkhandarya oasis.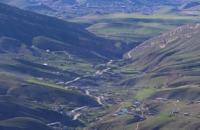 Package plan tour  in Uzbekistan.
"When acquiring land, look first of all at the water, road, neighbor"
Pliny the Elder.
Tours in the Surkhandarya region.
The Surkhandarya oasis is a depression bordered from the west, north and east by mountain ranges, and from the south it is limited by the most abundant river in Central Asia - the Amu Darya. The main waterways of the Surkhandarya oasis, the Surkhandarya and Sherabad rivers, flowing from north to south and flowing into the Amu Darya, form the Surkhan-Sherabad basin.
The Surkhan-Sherabad valley, starting from the foothills of the spurs of the Ghissar ridge in the north and northeast, where it looks like a narrow valley, gradually decreasing and expanding to the south up to the Amu Darya, is surrounded from the east, north and west by the spurs of the Ghissar ridge, protecting the valley from the invasion of cold air masses from the north.
The southern and southwestern expanses of the Surkhandarya region are open for the penetration of warm tropical air masses. These orographic features determine the natural and climatic features characteristic of this territory.
The territory of the region is 20.1000 kilometers (4.48% of the total area of ​​the Republic of Uzbekistan). It borders in the north and north-east with the Republic of Tajikistan, in the south with the Republic of Afghanistan (the border runs along the Amu Darya), in the south and west with the Republic of Turkmenistan.
The region is divided into 13 administrative districts, namely: Denau, Sariassi, Uzun, Altynsai, Shurchinsky, Baysun, Kumkurgan, Dzharkurgan, Termez, Angorsky, Sherabad, Kizirik, Muzrabad. The administrative center is Termez.
A vast high mountain range extends to the borders with Tajikistan, dissected by such tributaries of the Tupalangdarya as: Duoba, Shatrut (Shakhturud), Tamsush, Khovat, Kshtut (Kishtut). In this part of the spurs of the Gissar ridge, on the territory of the Sariasi region of the Surkhandarya, in the upper reaches of the Tupalangdarya tributaries - Kshtut and Bodamistan, there is the highest point of the entire republic - 4688 meters above sea level - the peak of Uzbekistan (the former peak of the XXII Congress of the CPSU), although the peak itself is located on the border of Uzbekistan and Tajikistan, however, the mountains of this part of the Gissar ridge (the basin of the Tupalangdarya river and the left tributaries of the Aksu river) are the highest in Uzbekistan, where there are plenty of peaks exceeding the four thousandth mark.
Here are some of them peaks - Khojapiryakh, 4425 meters above sea level, Zagrakh, 4333 meters above sea level, Gava, 4153 meters above sea level, Khojakarshavar, 4302 meters, Karaduklysh, 4101 meters above sea level, Kulikapon, 4214 meters above sea level, Chedyr (or Chedyrsan), 4411 meters above sea level, Khazarkhan, 4450 meters above sea level.
Authority:
http://www.cawater-info.net/bk/water_land_resources_use/docs/rivers.html
Photos by
Alexander Petrov.