Tomb of the saint Kiikbay Batyr Baigarauly.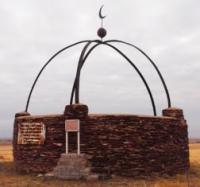 Historical attractions of Atbasar district.
"There is no stronger joy in this world.
Than seeing relatives and friends.
There is no more painful torment on earth
What to be with friends glorious in separation"
Rudaki Abu Abdallah Jafar.
Trips in the Atbasar district.
Mazar Kiikbay Batyr Baigarauly is located in the vicinity of the village of Sergeevka, Atbasar district, Akmola region. Kiikbai batyr (1693 - 1741) lived at a turning point of two centuries, during the Kazakh-Dzungarian wars.
Kiikbay Batyr showed courage in defending his land. The Mazar of the fearless warrior who died during the Kazakh-Dzungarian wars was established 275 years ago. Not far from the mazar there is a hill called by the people "Kiіkbay Adyrs".
Kiikbai batyr is a native of the Kerey family. Glorious legends about the great Kazakh hero Kiykbay batyr were handed down from generation to generation and have been preserved for centuries. People from all over the country come to Mazar Kiikbai batyr to honor the memory of the great warrior.
At present, only the front part of the mazar has been partially preserved, while the opposite wall has been destroyed. A small contour of an elongated domed shape clearly looms in the through aperture. At the end of the twentieth century, another mazar was installed on the Kіkbay Adyry hill.
The walls of a large, round mazar are made of stones imitating a medieval monument. The upper part is half-open, with five metal poles forming a wide dome with a silver crescent. On the memorial plaque there is an inscription: "Baiқaragly Kiіkbay.
1693 - 1741. In the 50s of the last century, chain mail of a Kazakh warrior dating back to the XVIIIth century was found in these places. A random find discovered during the plowing of the earth is now stored in the funds of the Atbasar Museum of History and Local Lore.
Authority:
Atbasar Museum of History and Local Lore.From the book of the local local historian Klara Amirova "Kılıkan ғұmyrlar". http://srh.kz/content/mesto-zahoroneniyakiikbaya-batyrabaygarauly/