Tour to Buddhist monastery Adjina-tepe.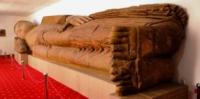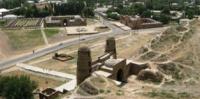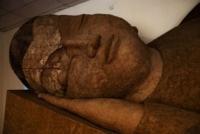 Trip on historical beauty sights Khatlon province.
"A good traveler has no fixed plans and is not intent on arriving" 
 Lao Tzu.
AJina-teppa ("Devil's Hill", "Witches' Hill", "Evil Spirit Hill") is the name given by local residents to a high plain, surrounded on three sides by aryk (irrigation ditches), densely buried in shrubbery and covered with shapeless bumps and pits.
When archaeologists came to the hill for the first time in 1959, they concluded, after the initial examination, that this was not just a shapeless conglomeration of land but the remains of some ancient rectangular structure, consisting of two equal-sized squares linked by a bridge.
Restoration scheme of the "Buddha in Nirvana" sculpture In 1961 an archaeological dig began here which continued for several years. More than 1,500 art artefacts were excavated: sculptures, patterns, wall paintings and their fragments. The level of preservation of these finds varies; some are completely intact and others are in fragments and the historical-artistic value of the latter is relatively modest.
When the works were completed it was determined that the Ajina-teppa ruins were the remains of a residential VII - VIIItn century Buddhist monastery. Buddhism's penetration into Central Asia and the existence of Buddhist monasteries here has been verified by both Chinese and Arabic written sources.
Biruni wrote almost 1,000 years ago: "In ancient times in Khorasan, Fars, Iran and Mosul, right up to the borders of Syria people were following the Buddhist religion until the time when Zoroaster came from Azerbaijan and began preaching Mazdaism in Balkh".
Some hold the opinion that the history of Buddhism in Central Asia, "should begin with the Greco-Bactrian Kingdom, although information about the teaching of Buddha and maybe some individual followers of Buddhism may have arrived here much earlier, in the Achaemenid era".
The short description of cognitive tour on archeologic complex Adjina-Teppa:
Almaty - Dushanbe - Ghissar fortress - town Kurgan Tyube - archeologic complex Takhti Sangin – Nurek hydroelectric power station - gorge Varzob - city Dushanbe.
Distance route: 295 km.
Season: from May 1th till October, 30th.
 Best time for excursion: June - September.
Duration of tour: 4 days, 3 nights.
The detailed program of cultural automobile tour from Dushanbe to settlement Shaartauz and city Kurgan Tyube:
Guided tours for individuals Tajikistan.
Day 1. Tashkent - Dushanbe - settlement Ghissar - Ghissar a fortress (50 km). 
Start from Tashkent to Dushanbe. Arrival in Dushanbe, a meeting at the airport, transfer to hotel, accommodation. Breakfast. The beginning of excursion on city, visiting: the Tadjik national museum, visiting of an exposition of history, history of the nature and art of Tajikistan. Visiting of a museum of ethnography, visiting of a hall where there is a Buddha in the Nirvana.
Now the sculpture the Buddha in a nirvana, found in Adjina-Teppa, is exhibited at the National museum of antiquities of Tajikistan in city Dushanbe. She is the sculpture of the Buddha who have been found out in territory of modern Central Asia largest on the sizes. Visiting of memorial complex Somoni in the center of Dushanbe, visiting of park Rudaki, near to complex Somoni. Lunch at local restaurant.
After a lunch transfer: Dushanbe - settlement Ghissar (25 km). Visiting Ghissar of historical and cultural reserve - Ghissar a fortress with an arch (gate), the areas Registan (the area before a fortress), a mosque «Chashmai mokhien» (the Stone Mosque) VIII century, two verandahs and a tower of XIV century, a mosque «Sangin», dome mosque Sangin (XII - XVI centuries), a historical museum.
The museum is located, in a building old madrasah. Here all is stored exhibits of monuments (more than 3200 copies), found during the spent excavation, in territory of the city of Ghissar and behind its limits. After excursion transfer to Dushanbe (25 km). Arrival in Dushanbe, a dinner in national chaikhana «Rokhat». Transfer to hotel, overnight.
Day 2. Dushanbe - Buddhist monastery Adjina-tepe (215 km).
Breakfast. Transfer: Dushanbe - city Kurgan Tyube (93 km). Arrival in Kurgan Tyube. A sightseeing tour on city, visiting of a city history-study of local lore museum. The quantity of exhibits in a museum in Kurgan Tyube makes approximately 700 copies.
Place of interest of a museum is the diopama «Tepai Kurgon» and «Rastai kosibon» - we shall see a picture from past Vakhsh of a valley where there was a burnt ground, the ruthless sun and rare caravans, visitors will see a panorama of a new valley with cities and modern constructions.
Further transfer: Kurgan Tyube - hill Ajina-tepe (20 km). Before settlement Sarband it is turned to the right and we move to Buddhist monastery Adjina-tepe. Here the rests of a Buddhist monastery VII - VIII centuries (a sanctuary, cell, stupa, sculptures, wall lists) were well saved.
In 1961 in this place archeological excavations which have helped to take from the ground боле 500 monuments of art have begun: sculptures, reliefs, fragments wall the painting, the inhabited from ensemble inhabited and cult premises of a Buddhist monastery. The monastery in Adjina-tepe consisted of two parts (temple and monastic), two rectangular court yard surrounded by buildings and strong walls. In one of court yard there was Greater stupa (a construction for storage of relics or for a designation of sacred places).
In corners of a court yard settled down Small stupa the same form, as well as Greater stupa. The monastery has been ornate, walls and ceilings are covered by painting. Within the precincts of there were niches where there were greater and small sculptures of the Buddha. The most sensational find Adjina-tepe became a huge statue clay Buddhas in a nirvana, found in 1966 in a corridor of a monastery.
It has been found out, only the bottom part of a figure - from a belt up to a sole of legs.
The top part of a sculpture has appeared strongly damaged. All other fragments of a sculpture have been found separately. Today the sculpture of the Buddha in a nirvana is exhibited at the National museum of antiquities of Tajikistan in Dushanbe. She is the sculpture of the Buddha found in territory of modern Central Asia largest on the sizes.
After excursion on transfer: Adjina-tepe - Nurek a water basin and city Nurek (24 km). A stop in vicinities Nurek a water basin, walk, photographing of vicinities. Nurek - city powermans, located on coast of the rough, mountain river Vakhsh. The exotic and beautiful city of Nurek. The road from the city of Nurek in Dushanbe, is very interesting to inhabitants who live in intermountain valleys, passes through pass in height of 1610 meters above sea level.
On the one hand, on pass - steep rocks, on the other hand - dizzy precipices. In city it is a lot of trees. The main place of interest of vicinities of a water basin is a 300-meter dam - the highest in the world. More than 20 years Nurek the hydroelectric power station gives people light and warmly. Nurek gives light to all kishlaks Ghissar of a valley, gives energy Tadjik an aluminium factory, Yavan an electrochemical factory and Tursun-Zade a porcelain factory.
Transfer: Nurek a water basin - Dushanbe (78 km). Arrival in Dushanbe, transfer to hotel, accommodation, a dinner and overnight.
Day 3. A trip to gorge Varzob (30 km). 
Breakfast. A trip on walk in gorge Varzob which is in northern part of city Dushanbe. For a long time there will be in memory the fine river, rocks above road, fields and gardens in valleys, rest in a shadow of nut groves. Admires and leaves unforgettable impression a kind of snow-white tops of mountains Gрissar - spurs of Pamir. The lunch-picnic. Returning in Dushanbe. Free time. Overnight.
Day 4. Departure from Dushanbe. 
Accompanying service at departure to airport. Departure from Dushanbe.
Note:
Author program of Alexander Petrov. Copying and introduction -  from the sanction of the author  petrovsra@mail.ru
Make use of article:
Javad Abed Khorasani. http://www.asraresokhan.com