Tour to mosque Beket ata.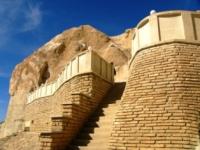 Small excursion Mangyshlak tour.
"I've known rivers:
I've known rivers ancient as the world and older than the flow of human blood in human veins. My soul has grown deep like the rivers" 
Langston Hughes.
Short description of route of pilgrim trip to valley Oglandy:
Aktau – Zhanaozen - mausoleum Kuy-Tam - valley Oglandy - underground mosque Beket ata.
Distance of route: 277 km
Season: from April 1, 30st till September.
Best time for travel: April, May, September.
Duration of tour: 1 day.
Detailed program of pilgrim trip to mosque Beket ata:
All excursion tours on Mangyshlak.
Aktau - Town of Zhanaozen - saint tomb Kostam - valley Oglandy - underground mosque Beket ata (277 km).
Transfer: Актау - depression Karagie - town Zhanaozen - settlement Kyzylsai - saint tomb Kostam (204 km). Departure at 7.00 from Актау. Our way lays on southeast through the deepest depression of Kazakhstan - Karagie, which on 132 meters below a sea level. Further ours way to small city of oilmen Zhanaozen. After Zhanaozen, our way lays to settlement Kyzylsai after settlement asphalt comes to an end, we turn on the left on graded road.
On this graded road we shall go up to natural boundary Oglandy. Soon to the left of road parking for motor vehicles, here is mausoleum Kuy-Tam, visiting of the mausoleum, photographing, pray shirakshi. Further our way lays to underground mosque and necropolis and  underground mosque Beket-ata - traditional place of pilgrims which go to mosque Beket ata.
Transfer: saint tomb Kostam - valley Kyzylsu - valley Kamysty - height Golbomshe - valley Oglandy (73 km). After visit to saint tomb Kostam rises on height Golbonshe with which beautiful panoramas on the north and on the south open. On a way visiting of mountain Sakartau which is to the right of road. From height Golbonshe the magnificent kind on the south - on mountain Bokty which alone towers in the middle of a huge cretaceous hollow opens.
Before turn on northeast to mosque Beket ata on the right there is far below a well-known natural boundary Boszhira. Soon the road turns on the north and results us in natural boundary Oglandy.
After visiting mausoleum Oglandy ata it is gone down on steps from shelly plates to underground mosque Beket-ata. The distance from descent from a plateau up to a underground mosque makes about 1 kilometer of 200 meters, on time it borrows from 25 till 30 minutes. Difference on height from edge of a plateau ( precipice) of Ustyurt up to mosque Beket ata makes about 200 meters.
Visiting of mosque Beket ata. Walk to the most ancient necropolis which is below a mosque about 300 meters. Under legends, Beket ata veins in cretaceous rooms its habitation consisted of kitchen and two rooms cut down in a rock. Returning to top mosque Beket ata (45 minutes).
A fine ornament of a trip to underground mosque Beket-Ata can be meetings with Ustyrt moufflons which have chosen to itself natural boundary Oglandy, here moufflons they live and are made reproduce under protection sacred Beket ata.
Visiting of top mosque Beket ata, tea drinking, lunch. Transfer to Актау (277 km).
Alexander Petrov
Photos by.
Note:
Author program is Alexander Petrov. Copying and introduction - only from the sanction of the author - petrovsra@mail.ru