Towns walls of Bukhara.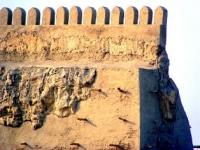 Bus excursions in Bukhara.
"History begins when nothing can be verified"
Vyacheslav Verkhovsky.
Guide to the monuments of Bukhara.
For millennia, Bukhara was surrounded by powerful mud walls, some of which were preserved in the park near the Samanids mausoleum and in the south of the city. By the eighth century. The city shahristan covered a quadrangle of walls with 7 gates.
A new ring of walls, built under the Samanids, already had 11 gates. Powerful fortification defended medieval Bukhara during the siege of the armies of Karakhanid Khan Nasr in the XI century, Genghis Khan in the XIII century, Tokhtamysh Khan in the XIV century, Sheybani Khan in the XVI century.
In the XVI century. under the Sheybanids Abd al-Aziz Khan and Abdullah Khan II, a new ring of walls was constructed that surrounded the overgrown suburbs of Bukhara. The city walls defended the city until 1920, when Bukhara experienced an assault on the Red Army, which used massive artillery shelling and aerial bombardment.
In the last century, the main part of the city walls and gates were destroyed. Until the middle of the XX century. the southern gate of Sheikh Jalal was intact, and by the beginning of the XXI century. only the northern gate Talipach survived (late XVIth century).
Enlightener:
VG Saakov "History of Bukhara". Shark Publishing House, 1996. "Bukhara. Masterpieces of Central Asia. Historical guide to Bukhara. year 2012. "Bukhoro Bukhara Bukhara" In Uzbek, English and Russian. Publishing House "Uzbekistan", Tashkent 2000. Muhammad Narshahi. History of Bukhara. Tashkent. 1897 (translated by N. Lykoshin). V.G. Saakov Architectural masterpieces of Bukhara. Bukhara regional society "Kitabhon" Uz SSR, Rovno 1991, Robert Almeyev. The history of ancient Bukhara. (Edited by Academician of the Academy of Sciences of the Republic of Uzbekistan Rtveladze E.V.)
Photos by
Alexander Petrov.