Travel to petroglyphs Tamgaly.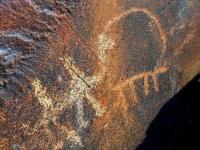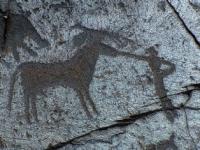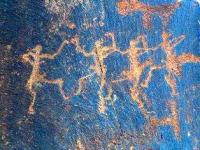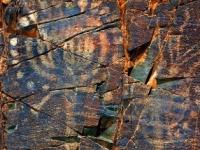 Archeologic tours in mountains Anrakhai of Southern Kazakhstan.
"Every dreamer knows that it is entirely possible to be homesick for a place you've never been to, perhaps more homesick than for familiar ground" 
Judith Thurman.
Short description of route of an excursion trip to Tamgaly petroglyphs:
Almaty – village Samsy – village Targap - Kopa train station – Karabastau village – valley Tamgaly.
Distance of route: 252 km.
Season: from March 20th till October, 30th.
 Best time for excursion: April - September.
Advanced reservation: for 24 hours.
Duration of the tour: 1 day.
The detailed program of an excursion trip to cave painting Tamgaly:
Petroglyph Tours in Kazahtsan.
Almaty - railway station Kopa - settlement Karabastau - valley Tamgaly (160 km, 3 hours).
The Way from Almaty to cave painting Tamgaly (Kazakh - Tanbaly) conducts on the West on motorway of Almaty - Bishkek. We pass pair settlements Samsy and Targap and on 100 kilometer it is turned off on the right in direction on train station Kopa.
We pass 60 kilometers and we at cave painting, after settlement Karabastau from the basic road we turn off on the left to the nearest hills. On steppe we pass полкилометра and we arrive on the small platform equipped under parking of cars. The further way, about 700 meters we make on foot.
The majority of cave painting in natural boundary Tamgaly are dated an epoch of bronze. Over 2000 petroglyphs from different epochs beginning with the Bronze Epoch were discovered here.   Excursion and walks on cave painting in natural boundary Tamgaly, photographing of figures and vicinities. Lunch. Returning in Almaty.
Petroglyphs Tamgaly (Tanbaly).
There are about fifty рlасes in Zhetysu where you can find rock drawings, or petroglyphs, most dating back to the Bronze Age. The best-known petroglyphs are at Tamgaly, the Koksu river valley and the Sholak, Kindyk-Tas and Anrakhai mountains.
Near the ancient drawings are archaeological finds such as settlements, burial grounds, religious structures and altars. In the late 1950s а unique sanctuary with rock drawings 1 was found at Tamgaly in the Anrakhai mountains (160 km north-west of Almaty).
Tamgaly is truly a gallery of ancient art. It reflects several periods of history, possibly more than twenty centuries. Over 2,000 drawings have been discovered, dating back to the Bronze Age, the early nomadic era and the Turkic period.
There are low slate cliffs on both sides of the gorge, and these sheer, flat surfaces are decorated with individual animals and entire scenes, carved with а metal chisel. The petroglyphs include both single and group images of mountain sheep, goats, Przhevalsky's horses, deer, au-rochs and steppe antelope, as well as domestic animals-camels, horses, bulls, dogs. There are sun-headed gods; scenes depicting hunting, religious rituals and animal sacrifices; compositions of people and animals, female forms, archers and so on; prayer inscriptions; and images of discs, chariots and tamgas (Kazakh for "clan sign", from which the name Tamgaly derives).
Not far from the gorge are burial grounds dating back to the Bronze Age (XI - X centuries ВС) and the early nomadic period III century ВС-II century AD), and an early nomadic settlement. The Tamgaly gallery of petroglyphs is one of the world' s treasures and is protected by Unesco.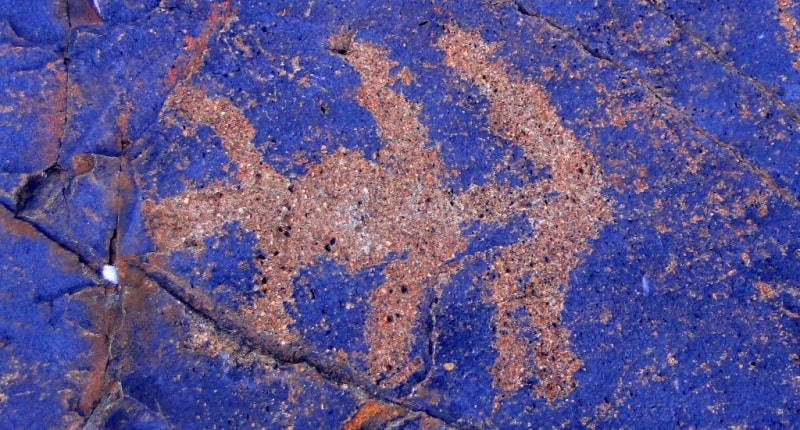 Note:
The author program is Alexander Petrov. Copying and introduction - only from the sanction of the author - petrovsra@mail.ru
Alexander Petrov
Photos.