Trip to ancient settlement Saraishyk.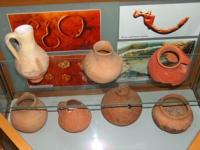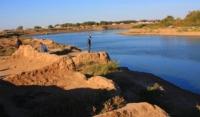 Historical excursion tours on monuments Atyrau of province.
"The Arabian traveller and geographer Ibn Battuta, the author kommentaries «Travel in Desht-Kypchak», described the stay in 1334 in the Saray-Dzhuke and informed on ferries on channel Uly-Su, reminded to it Bagdad. The Saray-Dzhuk was famous for the metallurgists, potters, handicraftsmen. In city the unique waterpipe, and system of water drains from ceramic pipes…»
Short description of route of an excursion trip to Sarayshyk:
Atyray – settlement Sarayshyk – memorial complex "Khan Ordaly Sarayshyk" - site of ancient settlement Sarayshyk - Atyrau.
Distance of route: 112 km.
Season: year round.
Best time for excursion: May - September.
Advanced reservation: for 48 hours.
Duration of the tour: 1 day.
Detailed program of an excursion trip to memorial complex "Khan Ordaly Sarayshyk":
Sightseeing area in Atyrau.
Transefr: Atyrau - settlement Sarayshyk - memorial complex "Khan Ordaly Sarayshyk" (53 km). Arrival in settlement Sarayshyk, transer to memorial complex "Khan Ordaly Sarayshyk". Visiting and excursion on memorial complex "Khan Ordaly Sarayshyk".
The memorial complex consists of an one-storeyed building of museum, small mosque and pantheon in honour of the seven khans buried in territory of ancient tonwn. In 1999 in village Sarajshyk of area Atyrau Makhambet of area the museum and memorial complex - "Khan Ordaly Sarayshyk" have been opened. In the center of pantheon there is dry sacred tree - Aulie-Agash. Visiting of the mausoleum.
Transfer: memorial complex - site of ancient settlement Sarayshyk (3 km). Visitings of archeological excavations on site of ancient settlement Sarayshyk, walk on coast of the river Ural. Site of ancient settlement Sarayshyk is on coast of the river Ural. Return to Atyrau (56 km). 
Short information on the ruins Sarayshyk.
The name Saraichik is rather widely known in archeological and historical literature. Located in the mouth of Zhaiyk River, it was аn administrative center, administration of eastern provinces Ulusa Zhoshy and in particular vast district within Aral and Caspian inter sea агеа perlormed.
Favorable geographic location securing аn active work of transcontinental caravan way from the Еurope to Asia, promote to rapid development of the city. Results of archeological researches for the last years pointed to active contacts of Saraichik with northern regions of the Golden Orda bу land way along the Zhaiyk River, also bу ships. In particular, construction materials from timber and stone, ornamental pieces of palace interiors and rich dwellings, made of stone and blooms availabIe here is evidence of this.
Saraichik was constantly in vortex of events of Eurasian standard, which inlluenced gradually to the Golden Orda late. Saraichik numismatics rellects all and every variety of cultural complex and special roles of this city in Eurasian space.
The Dirhem is the most ancient coin discovered to date аt the settlement, and was engraved in the period of the Mengu-Timur dynasty (1266 - 1282), of Batu-khan's grandson. The Dirhem was made in the Ukek city оn the Volga River.
Coins with the name Mengu-Timur, engraved in the city of Bulgar and Krym (Solkhat) city, and anonymous ones were lound in Sarai, Bilyar, Кеrman and Horesm. Ukek's dirhems were thin and made from low quality silver. The name of the Ulus Zhoshy Khan appeared for the lirst time оn the coins of this period.
Earlier, coins from Ulus  were engraved with the name of the late Caliph an-Nassir lid-din. According to scientists' opinion, such dirhems were engraved bу the Berke Khan (1257 -1266) and promoted Islamic concepts in the state.
Note:
Author program of Alexander Petrov. Copying and introduction -  from the sanction of the author  petrovsra@mail.ru
Alexander Petrov
photos.