Trip to Mount Sherkala.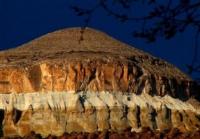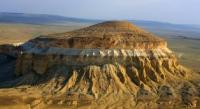 Photos of places of interest of Mangyshlak.
Why do you go away? So that you can come back. So that you can see the place you came from with new eyes and extra colors. And the people there see you differently, too. Coming back to where you started is not the same as never leaving" 
Terry Pratchett. "A Hat Full of Sky".
The brief description of a route of an excursion trip from Aktau to Sherkala:
Актау - settlement Zhetybai - settlement Shetpe - mountain Sherkala.
Distance of the route: 362 km.
Season: year round.
The best time for an tour: April, May, June, September
Duration of the tour: 1 day.
Advanced reservation: for 48 hours.
The detailed program of travel to mountain Sherkala:
Individual and groups tours Mangyshlak.
Aktau - settlement Zhetybai - settlement Shetpe - mountain Sherkala (181 km).
From the city of Aktau, our path lies to the southeast, after the village of Zhetybai our path lies to the north towards the village of Shetpe. We pass the large village of Shetpe and after it our path lies northwest to Mount Sherkala. We pass the big settlement Shetpe and after it our way lays on northeast to mountain Sherkala.
The mountain Sherkala is between the central and western part of ridges Karatau and in northern part of mountain Akmyshtau. In translation with Turkic «Sherkala» means "a fortress of a lion" («Sher» - a lion, «Kala» - a fortress). At root of a mountains were saved the rests of walls ancient a caravan-serai, on slopes of mountain - shelters for guard, traces of rope ladders, the rests of confidential pass, which lead down on top of mountain.
Sherkala - alone costing mountain, the unusual form if to look at it on the one hand, the mountain reminds huge white yurt, on the other hand - the mountain resembles the sleeping lion who has put the huge head on paws.
Therefore also have named mountain - Sherkala. Sherkala it is surrounded by curious legends. Walks in vicinities of mountain Sherkala. On a return way visiting of archeological excavations on site of ancient settlement Kyzylkala.
Returning in Актау (181 km).
The note:
 The author program is Alexander Petrov. Copying and use - from the sanction of the author  petrovsra@mail.ru
Photos
 Alexander Petrov.