Tugon Tura Mausoleum in Khiva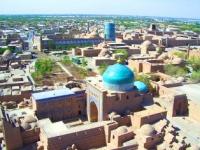 Sufi tours over Uzbekistan.
"Painting is an art to look at; sculpture - art, around which you can get around; architecture is an art through which you can pass
Dan Rice.
Sightseeing tours and walks in Khiva.
Mausoleum Tugon Tura of construction of XIX century, is located in the street Yusuf Tashpulatov to Ichan-Кала, before a northwest corner of Palace Tash Khauli.
According to existing data, the mausoleum has been constructed in honour of Tugon Tura which occured from Turkish Moslems and was one of the Khivan envoys Kuteiba Ibn Muslim, won Khoresm in 712 year.
The mausoleum has been restored in XIX century.
Enlightener: 
 http: // www.pagetour.org