Tulipa Lehmanniana.
 Tours behind plants of Southern Kazakhstan.
"She cast her fragrance and her radiance over me. I ought never to have run away from her... I ought to have guessed all the affection that lay behind her poor little stratagems. Flowers are so inconsistent! But I was too young to know how to love her..." 
 Antoine de Saint-Exupéry.
Tours on flora of tulips in Kazakhstan.
Tulipa lehmanniana Merckl. 20 - 50 cm tall, bulb ovoid, 1,5 - 4 cm thick, with very strong coriaceous, black-brown, prolonged to the ground, with dense woolly tunics inside (sometimes slightly curled).
Over ground part of the stem is longer or equal to underground, glabrous together with flower-bearing stem.
Sleaves 4, deflexed, more or less reclinated, straddled, glabrous, glaucous, glabrous, curly on the margins, smooth, usually considerably not exceeding the flower, the lower is lanceolate or linear-lanceolate, 1,5 - 2,5 cm wide.
One flower; perianth lobes are yellow, orange or red at the base, usually only inside, with dark-violet or black-violet spot, 2,5 - 7 cm long, pointed to short slightly pubescent tip, the outer are obovate or oblong-rhombic.
The inner are inversely triangle - lanceolate or inversely triangle-ovate; stamens 3 times shorter than perianth, filaments are yellow, yellow or black-yellow at the apex, anthers are yellow, equal to filaments. Ovary with sessile stigma; fruit case 1 - 1,5 cm thick and 2,5 - 3 cm long.
Flowering time in April. Distribution in Kazakhstan: Grows on sand or multicolored breeds. Occurs in Kyzyl-Kum and Turkistan floristic areas. Registered in the Red Book of Kazakhstan.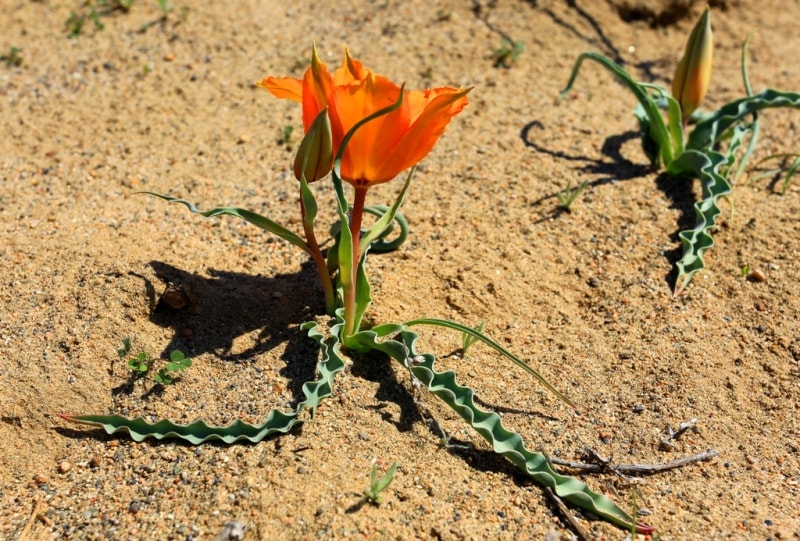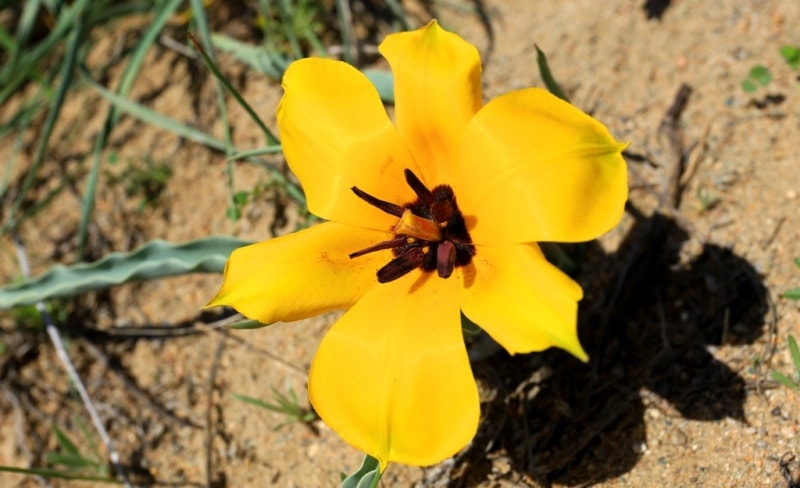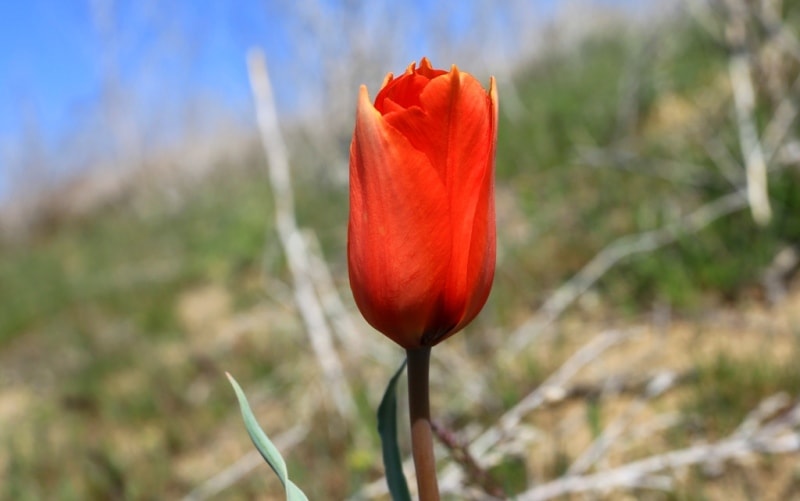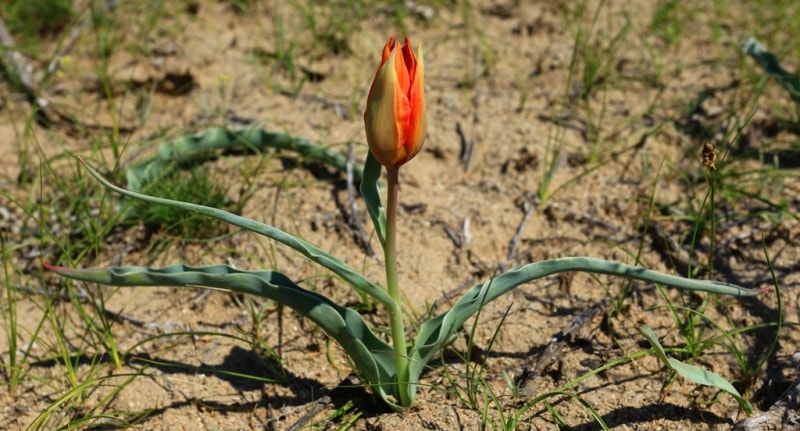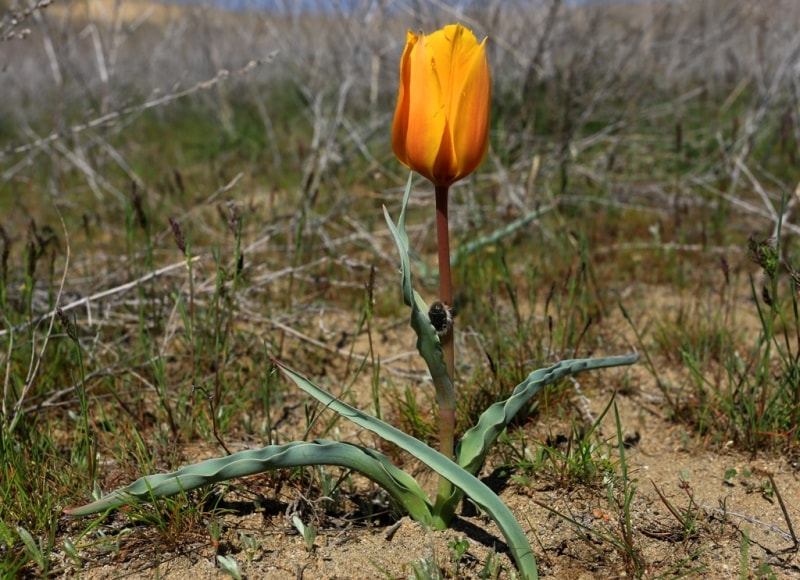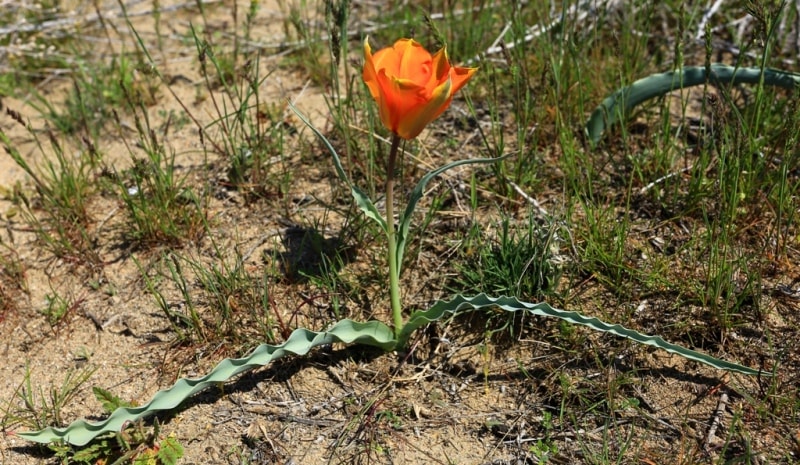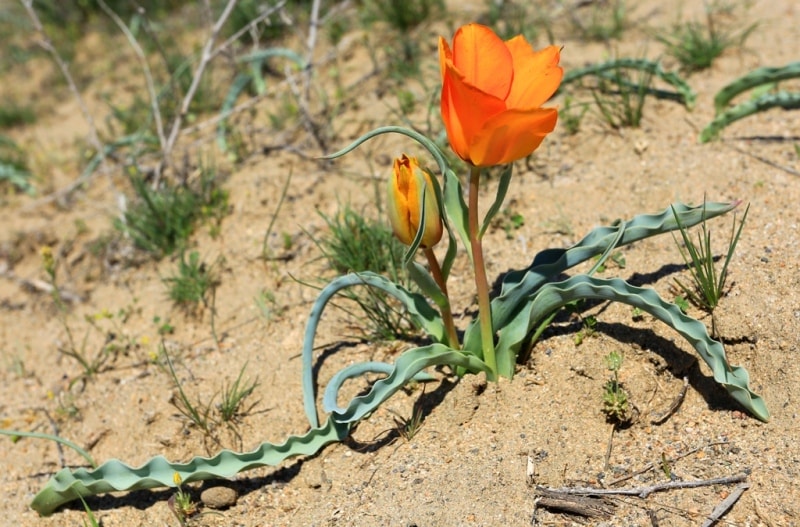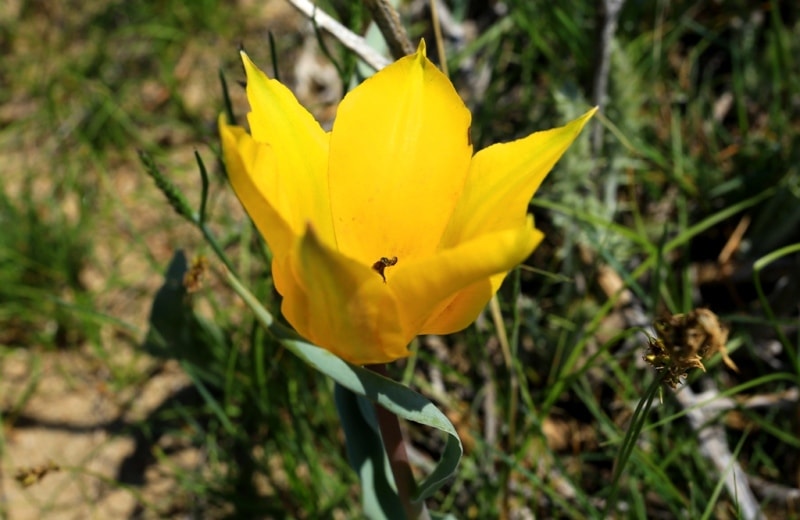 Authority
"Tulips of Kazakhstan". Almaty, LTD "Almatykitap baspasy". 2010, 272 p. Illustrated.
Photos
Alexander Petrov.