Turan lowland.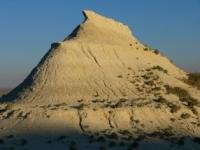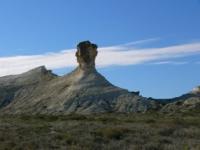 Tour from Astana to Borovoe lakes.
"Nature is wise. You can learn everywhere and from everything"
Leonardo da Vinci.
Group tours Kazakhstan.
An immensely vast, uniform desert landscape stretches from the Russian border down to Atyrau, featuring sand dunes and scant vegetation, if any at all. The unpaved roads are flanked by humble settlements about every 50 kilometres, and in between them the occasional shelters of a winter camp.
This area, part of the Turan Lowland (also called the Turan Depression) includes the Menteke, Buzanay, Kosdaulet and Batpayskagyr deserts - all in all not a very inviting tourist destination.
Almost the entire region lies below sea level, and the soil is saline. The highest "mountain", Mount Kaday, rises 14 metres above sea level, and to the north the region borders the Ryn Desert.
Only camels seem to prosper in this desolate area with its ungenereous soil, although sheep somehow also survive In Soviet times, this was a closed area for testing mid-range missiles.
However, the assumption that there is only flat and forlorn steppe in the Atyrau, West Kazakhstan and Aktobe Regions (Oblasts) is somewhat misleading. The easternmost branch of the Volga Delta, the Kigach, flows through Kazakhstan territory, emptying into the Caspian Sea to the south of Ganyushkino.
The small strip of land alongside it is more densely populated than all the rest of rural Atyrau Region, since its marshland is fertile. The landscape forms an interesting mix between flat steppe, desert, river and reed lake.
In Mangystau, more than 500 sites of archeological interest have been revealed in recent years. То these саn be added the late Stone-Age settlement at Koskuduk; the venerable Kizil-Kala, which straddles the Silk Road; the underground mosques at Векеt-Ата, Shakpak-Ata and Shopan-Ata; and the many-domed necropolis at Seysem-Ata, which is already а major draw.
Authority:
The guidebook across Kazakhstan . Authors Dagmar Schreiber and Jeremy Tredinnick. Publishing house "Odyssey".2010.
Photos
Alexander Petrov.