Uzynkyr a fortification.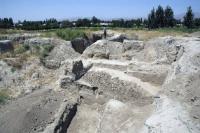 Tours and excursions on the Great Silk Way.
"Ten dervishes are sleeping on the same carpet,
Two sovereigns do not fit in one climate.
When a man of God eats half a cake,
Then he gives the other half to the dervishes. "
Zahir ad-Din Mohammed Babur. "Babur-Nama."
Weekend tours in Turkestan.
Uzynkyr - the rests of a fortification of city. At present, near to kishlak Kumyrtepa, she is traced in the form of a low shaft in length more than 650 meters, width of 20 meters. In due time the wall surrounded territory of all city with the area more than 70 hectare.
The initial wall of a site of ancient settlement has been built from сырцовых bricks X - IX в.в. Up to н. э., characteristic for such ancient cities of Sogda as, Koktepa and Afrasiab. Later, in days of domination Akhemenids, Selevkid and Greece-Baktri empires, on fortifications of town large-scale repair work were spent.
Authority:
 https: // ru.wikipedia.org