Valley of Zhidebai.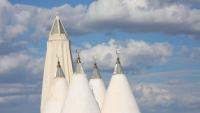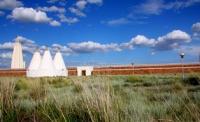 Vacation destination in East Kazzakhstan.
"I've known rivers:
I've known rivers ancient as the world and older than the flow of human blood in human veins. My soul has grown deep like the rivers" 
Langston Hughes.
City break in Ust-Kamenogorsk.
The natural boundary of Zhidebai is in the Abay Region of East Kazakhstan region in the southwest from the town of Semey in 180 kilometers. In 24 kilometers from the natural boundary there is a village Karaul which is the administrative center of Abay district.
The natural boundary is located in a steppe zone between the low mountains Ordo in the east with the dominating mountain Ordatas, 1065 meters high above sea level. In the West border the natural boundary are the mountains Karaadyr which were stretched in the meridional direction on 37 kilometers with the dominating anonymous height, 684 meters high above sea level.
From South side from Zhidebai there are two natural boundaries Karaolen and Balapan. In the northeast, approximately in 5 kilometers, there is a mountain Ortentau 657 meters high above sea level. In a northern part from the natural boundary of Zhidebai there is a saline land Karasor and the salty lake Bakshoky located at the height of 523 meters above sea level.
Around the natural boundary there are a lot of old thrown winterings which were dated for the natural boundary rich with pastures and the cattle in the neighborhood of which are good a pasture for the cattle in spring and summertime.
In 8 kilometers in the northwest there is a grave and the mausoleum Kengirbaya. In the territory of the natural boundary of Zhidebai in 1945 the branch of the Semipalatinsk literary memorial museum of Abay dated to a wintering of the poet of Abay Kunanbayev opened.
In a threshold of 125-year anniversary of the poet in 1970 the museum was reconstructed. The architectural appearance of the building kept the original form. In five rooms and three halls of the museum the household materials transferred by relatives and friends of Abay are presented.
Among them - the book in the Arab, Persian, Turkish, Russian languages, documentary photographs of those years, a three-stringed dombra of Abay, household items, etc. The exhibits which are of great ethnographic interest acquaint the visitor with an era of Abay.
Here photos of exiled of friends of Abay - Mikhaelis, Gross, Dolgopolov, Lobanovsky.
Authority:
Alexander Petrov, <http://old.unesco.kz/heritagenet/kz/participant/museum/abay_mus/rus/home...
Photos by
Alexander Petrov.