Walking to valley Tamgaly-Tas.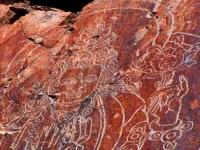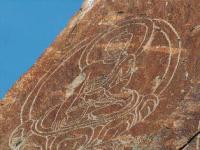 Trips on Buddhist petroglyphs of Almaty province.
"Ot mani padme hum"
Short description of route of an excursion trip to Tamgaly-Tas valley:
Almaty – settlement Pervomaika - tovn Kapshagai - Kapshagai water basin - natural boundary Tamgaly-Tas - wooden town "Nomad" - Almaty.
Distance of route: 183 km.
Season: from March 20th till October, 30th.
 Best time for excursion: April - September.
Advanced reservation: for 24 hours.
Duration of the tour: 1 day.
The detailed program of an excursion trip on the Ili river and petroglyphs Tamgaly-Tas:
Cave paintings and Petroglyphs Kazakhstan.
Almaty - town Kapshagai - Kapshagai reservoir - river Ili - valley Tamgaly-Tas - ancient town "Nomad" (125 km, 2 hours).
The way from Almaty to cave painting to Buddhist figures Tamgaly-Tas passes on northeast from left, northern party from road between Almaty and Kapshagai there are sand Moiynkum. The town of Kapshagai known for the casinos, further we pass through town, the bridge on dam Kapshagai hydroelectric power station. 
Passing the bridge on the right it is well visible Kapshagai water basin annoy rocky steep coast. After rise from Ili road turns valleys on regional center Bakanas, through 19 kilometers we shall turn on the left in steppe, to the river Ili. 
Soon we again go down in wide valley of the river Ili from descent the blue tape of the river is well visible Ili. Arrival in valley Tamgaly-Tas (115 km). Excursion and walk in vicinities of valley Tamgaly-Tas. Visit and photographing petroglyphs Buddhas. 
Rise on panoramic platform dominating over vicinities, from here opens fine panorama of northern part of the river Ili, admiration of the open beauty. Returning to the river. Lunch. 
Transfer: valley Tamgaly-Tas - Kapshagai hydroelectric power station - wooden town properties "Nomad" (58 km). Walk in vicinities, survey of properties of "ancient" wooden city on background of the river Ili and neighboring mountains, rise on fortification. Town have built as properties for film "Nomad" which have let out on July, 17th, 2005. Returning in Almaty (101 km).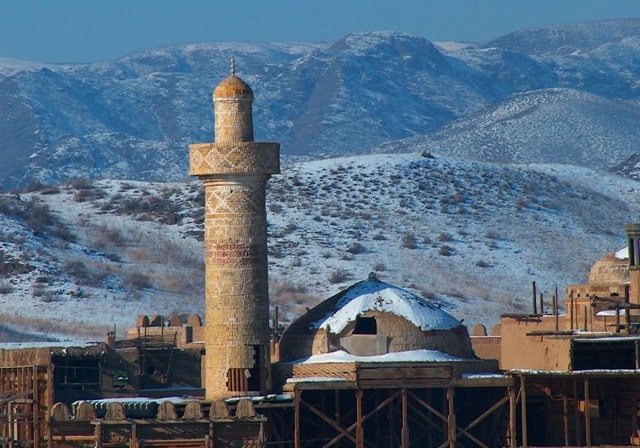 Note:
The authority program is Alexander Petrov. Copying and introduction - only from the sanction of the author - petrovsra@mail.ru
Alexander Petrov
Photos.